Trauma-Informed Healthy Sexuality Education // Capacitación- Educación para una sexualidad sana informada sobre el trauma
[español a continuación]
Do you teach sexuality education programs about consent, healthy relationships, and/or sexual health to young people? Join this three-part training to:
Understand the key principles of a trauma-informed approach
Know what to expect when working with youth with a history of trauma
Practice specific facilitation strategies and skills to support the healthy sexual development of youth who have a history of trauma
This training will be in English. Please let us know if you would like interpretation. Click here to read accessibility information about the event, and contact linda@nccasa.org for additional accessibility needs & requests. Please register by June 7th!
//
¿Enseñan programas de educación sexual sobre consentimiento, relaciones sanas y/o salud sexual a jóvenes?  Participa en esta capacitación en 3 partes, impartida por Jamilia Martineau-Lopez y Linda Chamiec-Case, para..:
Comprender los principios clave de un enfoque basado en el trauma
Saber qué esperar cuando se trabaja con jóvenes con antecedentes traumáticos
Practicar estrategias y habilidades de facilitación específicas para apoyar el desarrollo sexual saludable de los jóvenes con antecedentes traumáticos.
Por favor, haz clic aquí para leer la información de accesibilidad sobre el evento. Esta capacitación se impartirá en inglés.  Por favor, háganos saber si desea interpretación. La página de inscripción es en inglés.  Haz clic en la palabra "Translate" (Traducir) en la esquina superior derecha y selecciona la opción "Spanish" (Español) de la lista desplegable para ver la versión en español. Por favor de registrarse antes del 7  de Junio.
PhotoVoice allows participants to use their voice and their vision to document their lives, community, and concerns. It is a type of qualitative research that uses photography to shed light on issues in a given community, encouraging participation of community members who are usually excluded from formal research processes. Plus it builds community, and it's fun!
Through this training participants will:
-Learn what PhotoVoice is
-Move through the stages of delivering the PhotoVoice project- from training participants to sharing out the results
-Explore & wrestle with the importance of centering youth voice, and centering the voices of those in their communities
-Create a plan to facilitate a PhotoVoice project in their own community
This training will focus on facilitating PhotoVoice projects with young people, but could be applicable to groups of all ages! NCCASA is excited to host this training with guest facilitators Nia Short- Sutton and ZaKeyah Gear. This training will be in English. Please let us know if you would like interpretation.

RFA #A386: North Carolina Rape Prevention and Education Program: Community Approaches to Preventing Sexual Violence is now out to apply for funding for Sexual Violence Prevention. Click for more details about this 3-year funding source.
…
With the new request for applications (RFA) to fund Rape Prevention and Education (RPE) work in NC's communities, we wanted to take a moment to highlight some of our current creative community prevention happening across the state. 
But first, some  background!
…
Recent prevention guidance has emphasized the importance of addressing community and society level risk and protective factors. 
What this means:
Public health research has identified risk and protective factors for sexual violence. Risk factors

increase

the likelihood of violence occurring, and protective factors either

reduce

the likelihood that violence will happen or

mitigate

its impacts if it does happen.

Risk and protective factors aren't just for

experiencing

sexual violence. We know risk and protective factors for

perpetration

of sexual violence, too. (

See this CDC list.

) This means we can prevent sexual violence before it ever happens by reducing risk factors for perpetration and increasing protective factors.

The risk factors addressed in NC's state action plan include rigid adherence to gender norms, lack of non-violent problem-solving skills, and community norms that support aggression against others. The protective factors in NC's state action plan include community support and connectedness, and coordination of community resources. You can see the full list in

NCCASA's Prevention Plan at a Glance

.

Risk and protective factors can exist at every level of what we call the "Social Ecological Model." Because risk and protective factors can be either individual, relationship, community, or society-level factors, an effective and comprehensive strategy will address the community and society-level factors instead of just individual and relationship.

A plain-language explanation for why community and society level prevention ("outer-layer" prevention) is important is: "If we teach kids good communication, healthy relationships, and non-violent problem solving skills but then send them back out into the same community that normalizes violence and aggression, it will be less likely to stick." When we shift norms in the communities, our education efforts will be better supported. In fact, if we shift the norms in the communities, less of the curriculum-style education will be needed!
…
So how do we put this into practice?
There are as many ways to put it into practice as there are communities in North Carolina! The trick is to assess your community, its readiness for different kinds of approaches, its needs and norms, and your agency's unique strengths and areas for growth.
Following are a few specific examples and highlights of creative prevention happening in NC. Remember, what works in one community might not work in yours. The key is getting creative, and realizing prevention is more than just delivering curriculum to youth.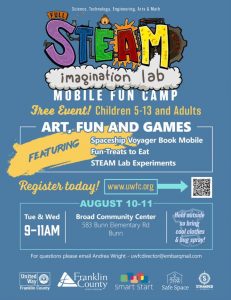 Safe Space in Franklin County is no stranger to community-level prevention in a rural county. In the past, they've done extensive Barber Shop Outreach (pictures), creative use of family films to spark intergenerational discussion about feelings (video), and launched the Love Level Up website as a hub for their teen dating violence activities. Most recently, they hosted a Mobile STEAM Summer Fun Camp to increase community connectedness while fostering healthy relationships and nonviolent problem-solving skills. This camp was hosted in partnership with United Way, Franklin County Health Department, Franklin County Library, Smart Start, Franklin County EMS, and Franklin County Parks and Recreation — connecting resources for families all in one place to both build community and increase coordination of services!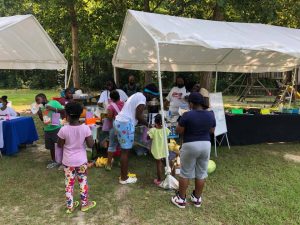 They were able to connect with 60 adults and children in Franklinton, and another 80 in Louisburg, and as of our last check in they were excited about the final stop on their tour in Bunn, NC. Before implementing the camp, Safe Space and United Way staff and volunteers participated in 6-week art therapy training and community engagement training, and provided a full-day training for all event volunteers on community youth engagement facilitated by Monica Daye of Durham-based Stand Up Speak Out. At the camp, children visited the following tents for learning and activities: STEAM, art therapy, healthy relationships, and resilience for pro-social enhancements, and adults could visit the adult self-care station. Other available activity stations included EMS, Library, Fire Department, and the Girl Scouts, as well as free lunch and free snow cones and snacks along with plenty of bottles of water for the North Carolina heat!
When asked, Traci Dunston, RPE Coordinator at Safe Space said that the greatest benefits Safe Space has experienced through collaborating with other agencies include reducing fragmentation of services within the community and bringing togetherness, building greater trust for the community, more resources to do prevention work with, and having more staff-power to get things done. And they know how to get things done! Traci added, "Remember together is always better, we don't have to reinvent the wheel, we don't always have to take the lead… let's join forces and create better, safer communities." Traci said that when we align with other community organizations who share some of our values, we build buy-in and trust by "being authentic and doing what we say we'll do."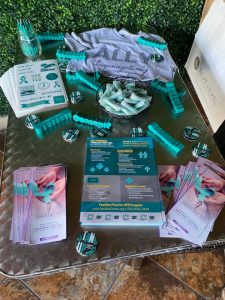 In Columbus County, Families First RPE Coordinator Omar Godwin recognized that rigid gender norms and the need to build empathy for those who don't fit those norms offered unique opportunities for sexual violence prevention in his rural county. With the support of his full agency, Omar helped spearhead a recent Ally Night at a local restaurant. Omar wanted to be sensitive to his rural community's values while pushing the needle toward acceptance of all people in Columbus County. Together, staff created thoughtful language that highlighted allyship and support as positive values that even nervous community members could get behind. "Come mingle and meet the allies/staff of Families First! Whether you are expressing your own self or standing in as an ally, let's come together to make a difference in our community!"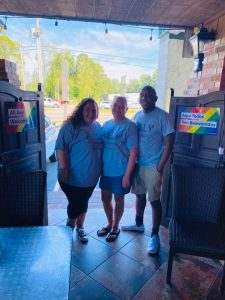 The event wasn't without its bumps — some county government advertising venues that the organization usually uses to promote its events were not available for what the government considered "a sensitive social issue," but the event itself was a success! At the event, Families First discovered they had allies they hadn't previously realized, including several local school staff and community leaders, and it gave community members a chance to connect with Families First in a non-crisis setting to learn more about their work and about sexual violence prevention. The event ended with Families First having more volunteers, and new members interested in joining their county-wide multidisciplinary sexual violence prevention task force, which steers the county's community-level prevention strategies. See pics of their incredible Ally Night on Facebook!
When asked what guidance he would offer others who might be nervous about doing a similar event in rural communities that are not always known to be safe for LGBTQ people, Omar said, "First and foremost step out on faith. Make sure you plan the event in a space that is safe, and as far as your marketing is concerned, be sure to use wording that will appeal to those interested, and not to anyone that would be a threat to its success or safety."
In rural Watauga County, OASIS RPE Coordinator Kellie Bass realized that several Christian faith-based allied organizations were supportive of ending sexual violence and interested in talking about the issue, but had different needs and language, which often left them out of many dialogues in the movement to end sexual violence. "Faith and rural communities are often forgotten and difficult to reach in some prevention work, which means that any cycles of abuse existing within those communities may feel impossible to end," Kellie explained. OASIS has been developing faith-based materials for doing prevention work in local faith communities to bridge this gap. "Through our intentional focus on prevention programming in the faith community, we are working to reach religious communities and end the abuse they may be experiencing or perpetuating."
In Guilford County, Children's Home Society's new RPE Coordinator Nnenne Asi hit the ground running through implementing sexual violence prevention programming (to include youth curriculum and family support programming) at a local transitional living community, ensuring that families transitioning out of homelessness, many of whom have higher numbers of risk factors for sexual violence, have support and connectedness in addition to information about healthy relationships and nonviolent communication.
After attending NCCASA's Prevention Intensive on Racial and Gender Justice (facilitated by A Call to Men), Durham County's Durham Crisis Response Center RPE Coordinator Sam Peterson developed a plan for several months of messaging in his community about healthy and unhealthy expectations about masculinity, including a social media campaign as well as a series of panel discussions and live-streamed events. Sam also had a wonderful opportunity for a creative community partnership when a local Latina mother asked DCRC to partner with her on presenting sexual violence prevention programming to a group of adolescent Latina girls, building both opportunities to present culturally-responsive programming and to involve parents as collaborators in prevention work, strengthening family and community connections through the process!
The Rape Crisis Center of Coastal Horizons in New Hanover County has done some creative community-level work as well, through strengthening school partnerships and co-facilitating the county's Title IX task force. While their school-based programming does center on individual/relationship level curriculum instruction in schools, they've added a unique community-level twist by training 20 health and physical education teachers and an additional 6 family life educators in their school district to be the implementers of the Shifting Boundaries curriculum. Receiving facilitator training empowers these teachers to be leaders in their school communities, advocates among their district staff, and trusted adults delivering the programming. RPE Coordinator Janie Dowda partnered with prevention staff at the local partner violence agency to launch this program, and now serves as a training and technical assistance provider for the school staff, amplifying her program's impact through empowering others to lead. 
OCRCC in Orange County also added a community-level twist to their school-based individual/relationship instruction by supporting the creation and work of Youth Against Rape Culture (YARC) – a high school student advocacy group! By taking teens who were engaged in the curriculum content and giving them support, empowerment, and opportunities to continue shifting the culture in their schools, OCRCC is fostering youth leadership in changing cultural norms in their school communities and peer groups.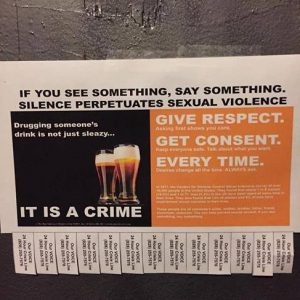 In Buncombe County, Our Voice has long been a leader in bar-based community prevention strategies. Their Bar Outreach Project, which includes its own manual, is currently being evaluated by RTI in partnership with the CDC to evaluate effectiveness and produce research that could be used to implement similar programs in other communities. You can learn more about their project in this PreventConnect web conference: Cheers to Creating Protective Environments: Sexual and Intimate Partner Violence Prevention in Bars and Alcohol-Serving Establishments.
And NCCASA completed a comprehensive 6-module training series for Guilford County Schools in 2021, in which over 2300 district employees participated in at least some of our Schools Creating Optimal Protective Environments (SCOPE) training, with over 230 completing all six 90-minute modules (NINE HOURS!), including education about child sexual abuse, human trafficking, sexual assault, power dynamics, grooming, trauma-informed schools, healing-centered care, violence prevention, bystander intervention, Title IX, mandatory reporting, and the adultification of Black girls. We rounded out our school year partnership with GCS by offering a three-day train-the-trainer for a small number of school teachers, counselors, and social workers who had attended SCOPE modules and wanted to be part of educating their peers in the coming year by delivering the SCOPE modules themselves. 
The goal of SCOPE training is to meaningfully empower school districts with a robust sexual violence prevention strategy educating school and district staff with meaningful knowledge to address sexual violence at all levels of the social ecological model (individual, relationship, community, and society). While SCOPE does include skill-building elements and individual/relationship-level teachings, it is focused on shifting community norms that normalize violence. By providing deeply-engaged, comprehensive, and meaningful sexual violence training to such a high number of district staff, encouraging them to continue each module's conversations with their peers, and empowering them to be leaders in ending sexual violence in their school communities, we are changing the school culture.
NCCASA is currently working on developing SCOPE into a program that will be available statewide, and that local rape crisis centers can be trained to implement in their own communties' schools.  To be notified when we are ready to begin offering SCOPE trainings or to get trained to deliver SCOPE in your county's schools, sign up here.
…
To learn more about creative community prevention, or to discuss your ideas for strengthening sexual violence prevention efforts in your community, contact NCCASA Prevention Education Program Manager, Chris Croft.
…
RFA #A386: North Carolina Rape Prevention and Education Program: Community Approaches to Preventing Sexual Violence is now out to apply for funding for Sexual Violence Prevention. Click for more details about this 3-year funding source.