HR 2601: The National Human Trafficking Hotline Enhancement Act
HR 2601: The National Human Trafficking Hotline Enhancement Act
This bill was introduced last week in the House Judiciary committee, drawing a quickly organized group of survivors who were also attending the nearby JuST Conference to communicate their disapproval of the bill. 
The National Human Trafficking Hotline Enhancement Act would force the hotline to disclose information on request by law enforcement including any information that is characterized as a "third party tip." 
While reporting to law enforcement can be a vital part of a survivor's journey, it should NEVER be coerced. This Act would turn the hotline to a tip line for law enforcement regardless of survivor consent. This Act would take away survivor choice and take away a vital resource for survivors and service providers who depend on the hotline, especially in areas where resources and advocates are limited and funding is absent. 
I was also in DC that day for the JuST Conference. I sat at a table discussing the bill with a friend of mine and other survivors who had just returned from the Gallery. One survivor stated emphatically: "I will never call the hotline again." 
Other advocates and national organizations have weighed in, such as the  Freedom Network, and the Human Trafficking Legal Center. Read here the National Survivor Network's sign on letter. You can also watch the bill introduced here.
The Fraternal Order of Police shared their stance on the bill, which I find very enlightening because they get what's at stake:
Recently, Polaris has altered course and has decided, without consulting their law enforcement partners, to only share self-reported information with State and Local law enforcement if they have the explicit consent of the person calling the Hotline. The Hotline was established so potential victims and witnesses could provide law enforcement with information to stop these crimes and help victims. The Hotline seems to be changing its mission from serving as a tipline to prevent crimes and help victims to now just focusing on connecting survivors with resources and services. This decision is crippling the ability of law enforcement to address human trafficking operations.
"Focusing on connecting survivors with resources and services" sounds like pretty good work to me.
Courtney Dunkerton, Human Trafficking Program Coordinator, NCCASA
NCCASA's goal is to always center the experience of survivors as we drive our work forward and prioritize strategies to assistance the community agencies, including rape crisis centers, that provide response to sexual assault survivors.  As the effects of VOCA cuts continue to be felt across the country, NC is not immune to the impact.  NCCASA wants to be able to step in and fill gaps that might begin to arise for the agencies across the state. When budgets are thin, training budgets and memberships to organizations are more difficult to pay for and/or justify when needing to keep the folx on the front line who are serving survivors.  In order to assist agencies during this time, the NCCASA team wanted to make folx aware of three benefits we are working to make more known to local rape crisis centers.  
The first program is our Membership Hardship Waiver program.  When the pandemic began, NCCASA began offering this program as agencies struggled to bring in donations and hold fundraising events.  To access this program, your agency administrator can click this link and fill out a waiver application. The waiver is good for 12 months after the approval date.  In this program, folx have full access to all the membership benefits the agency would have if they were to pay, including access to free training.
The second program is our self-paced online training, Advocacy Fundamentals Course.  With an active membership, paid or waived, your agency has access to the 20 hour course. The course covers the basics of sexual assault response and provides the 20 hour of training that advocates (staff or volunteers)  at local rape crisis centers to obtain Advocate Privilege in the state of NC.  Agencies can not only utilize this training to train new staff, but also their volunteers.  This training does not serve as a replacement for your volunteer training, but can be used to cover the basics and allow staff time to be spent on covering specific agency/community knowledge.  If you are interested in utilizing the Advocacy Fundamentals Course for your volunteer program, please contact Deanna, Director of Statewide Capacity, at deanna@nccasa.org. 
Lastly,  NCCASA has been working diligently to move all of our webinars that are older than a year to our Youtube channel.  These trainings are free and do not require any type of membership to access. Check out and subscribe to our Youtube channel, here.  
NCCASA wants all agencies to know that we are here to support you through tough budgetary times.  If there are other gaps your agency is struggling with, please let us know. You can contact our Executive Director, Monika Johnson Hostler at monika@nccasa.org and/or Deanna Harrington at deanna@nccasa.org. 
What would it be like to travel back in time to join those who sparked the movement to end sexual violence? What if we paused to listen and look at their roadmap that is their legacy?
We step into their legacy when we listen to their voices as survivors existing on the margins. They were the Change-Makers who sacrificed everything to survive and thrive.They organized, carved out safe spaces for themselves, used networks, relationships, and the media that was available at the time.
We step into their legacy when we listen to the current voices of survivors existing on the margins: We are the Change-Makers who follow their roadmap and carve new paths using technology, media, networks, healing arts, and amplify the voices who still demand change.
This year's conference is a gathering of Change-Makers and we hope to see you there!
Click
here
to register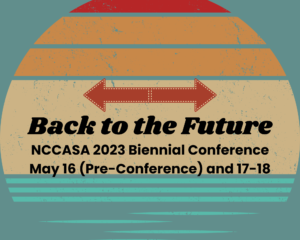 Financial assistance is available to survivors of sexual assault and local programs that provide sexual assault response services to survivors. A limited amount of funds is available for distribution between now and June 15, 2023. Financial assistance is not recurring and is only provided once. Funding is provided for payment or reimbursement of expenses for which a bill or receipt can be provided. This funding will prioritize applicants who have expenses related to an assault that happened in the last 12 months, but other applicants may still apply. Applicants must live in the state of North Carolina.
Survivors of sexual violence can request payment or reimbursement for expenses such as the following when those expenses are related to their assault: 
medical services (hospital or medical bills or co-pays, rape kit) 
emergency transportation
therapy 
child care
emergency housing
legal representation
This funding can also be used for staff of local programs that provide sexual assault prevention and response services. Specifically, when the request is related to secondary trauma, the funding can provide:
an advocate therapist
a group therapy/debrief for staff 
To apply, complete the Google Fom. Someone from NCCASA will notify all applicants that their application has been received and if their request has been approved for funding. If you experience any technical difficulties completing this application, please call 919-871-1015 or info@nccasa.org for assistance. 
It's possible we are all a little cagey to get too excited about 2023. Maybe our hope has been a bit dulled by the last couple of years. It may just feel safer to lower the bar when it comes to expectation. However, it's worth reflecting together that we have weathered some storms and we are all still here! As survivors, advocates, friends and colleagues we have discovered courage and resolve we didn't know we had. When we shine that light of resilience, we encourage each other to keep on. 
What does "light in the darkness" mean to you? Maybe you think about your faith or someone who was a guide or support during a rough time, or when you were able to strengthen another person. Maybe it was a date on the calendar, a powerful memory, or something to look forward to. An old friend we unexpectedly run into at just the right time. That text with an apology or a well-deserved "thank you." That sacred place where you feel closest to something larger than yourself. 
For me, a light in the darkness means hope: hope we receive and hope we give.
It means clarity and presence, whether the light is a part of the collective light of others, or if it shines alone: one small point of light, defying the darkness, refusing to be overcome by it. Maybe it shines though it flickers and is dim, or maybe it glows with steady intensity and heat. Either way, lights in the darkness remind us that we are not alone, and that there IS a way forward. 
In January we focus on human trafficking awareness and we have seen significant changes in the North Carolina Anti-Human Trafficking (AHT) landscape in funding, organizational capacity and partnerships. And while there are many bright spots to celebrate, we have more work to do in centering survivors' well-being and implementing public health framework in our programs and strategic planning. We want our work to be impactful in the way it gives hope to others. 
We can also be a light in the way we do our work. What would happen if we prioritized: 
impact over output?

courtesy over competition?

relationships over influence?

abundance over scarcity?

presence over busyness?

empowering survivors over personal glory?
As we face 2023 with all the joys and challenges it will bring, let's resolve together to cultivate that which gives light to others. In the very real darkness, let's resolve to be hope givers. 
Courtney Dunkerton, Human Trafficking Program Coordinator
NCCASA is happy to introduce our newly revised Sexual Assault Advocacy Fundamentals Course. This course is broken up into two parts and will provide 20  hours of training for member Rape Crisis Center advocates.  If you are an advocate at a state recognized Rape Crisis Center, this training will provide you with the hours and skills needed to have advocate privilege.  This training is open to anyone with membership.  We have included resources, citations, a link to directly email NCCASA for technical assistance, self-care breaks and quiz's.  This course is intended to replace Sexual Assault 101 and 102 webinar/in person  trainings and the previously launched online module "Sexual Assault 101 Learning Course".  We are so excited to offer this new opportunity to members to further their training and capacity and hope that you enjoy your experience. If you have any questions or technical issues, please contact Deanna Harrington at training@nccasa.org. Click here to register.
Happy Learning!!
If you were able to attend the Spring Member Meeting this year, you were part of a spiritual, hopeful, and inspiring talk given by Tai Simpson. Tai is a Social Change Associate with the Idaho Coalition Against Sexual and Domestic Violence. Tai is a storyteller and was generous enough to share her talents and knowledge around storytelling in the anti-sexual violence movement with us. Our goal was to create a story of what does anti- sexual violence work look like in NC and where do we go from here. 
Here are some highlights from this time we spent in community:
Storytelling can be a powerful communication tool. Stories are a way to share with others our experiences, our values, the ways in which we understand and move through this world 

Storytelling creates authentic human connection. Our stories can help us connect with others who share similar stories or relate to our stories in other ways. Stories help us build community, trust, and support. 

"You can't understand the world without telling a story" -Gerald Vizenor (Anishinabe) 

A quote that Tai shared that was passed down to her through her community was "Be the water, not the rock". Tai shared the importance of water for her and her ancestors. And that water represents fluidity and flow and that water is always moving, and yet sometimes is still. 

Storytelling can be a powerful tool used by RCCs during many phases of advocacy. We can create opportunities for storytelling during intake instead of standard forms, we can make offerings for storytelling in our support group spaces. Stories nurture imagination and help us practice deep listening. This will allow us to be more present and creative advocates. 
As part of this time, Tai also gave three prompts for attendees to engage with. The prompts were: 
How do you love yourself well?

In a world without violence, I imagine ______

Collective thriving is ______
The chat box overflowed with thoughtful and hopeful responses. Things like "I love myself well by connecting with my ancestors" , "by recognizing that rest is revolutionary". In a world without violence I imagine "peace", "all the fractured parts to be united", "freedom", "joy" and collective thriving is "choosing to love", "connection", "heaven on Earth". 
We invite those who were unable to attend to share your responses to these prompts either through the use of this  jamboard or by emailing us directly. Your responses can be in the form of words, art, graphics. You can send your emails to leah@nccasa.org With your responses to these prompts, you're helping NCCASA envision the future of the anti- sexual violence movement in NC and what we can do to support you in achieving your goals.
During the member meeting, we were also joined by a wonderful artist, Alexandria Clay, who provided us with a graphic rendering of our time together. You can view that image here
We know that many of you have been facilitating virtual support groups throughout the pandemic and though many of our programs have resumed in person, virtual support groups seem to be here to stay. NCCASA and RCC of Coastal Horizons have collaborated on an addendum to our support group manual to bring you information on facilitating virtually, what tools and skills you may need when holding group in a virtual space, what platforms are best, and what to do in case of an emergency. You can access the manual here: https://drive.google.com/file/d/193fbh1MZPKKkOztBadDbN88g09kiOZr3/view?usp=sharing
Virtual Support Group Manual Addendum_compressed

Thank you all for your participation in our first Sexual Assault Census Week Survey! It was a huge task to take on during SAAM and you all did amazing. Your hard work and contribution is greatly appreciated. 
Congratulations are in order for Hannah's Place, Inc. as they are our first place winner! Hannah's Place will receive next year's NCCASA Membership completely free!
The following agencies are our runners up, and will receive discounted membership for the year:
Partnership of Ashe- A Safe Home For Everyone

Rape Crisis Center of Robeson County

Phoenix Counseling Center

Steps to HOPE, Inc

SAFE of Harnett County, Inc

Hoke County Domestic Violence & Sexual Assault Center

Options

Turning Point

Families Living Violence Free

Safe Space, Inc
Thank you to everyone for your engagement. In the following weeks we will be corresponding with participants and creating infographics to report back the data. Please be on the lookout for updates and emails on Census week. If you have any questions, please feel free to contact Erica Blackwood SADI Specialist at erica@nccasa.org.