Black Mental Health Matters
"I say put mental health first because if you don't then you're not going to enjoy your sport and you're not going to succeed as much as you want to." – Simone Biles
---
One of our most common recommendations for self-care, or healing, is taking care of our mental health through therapy and counseling. Therapy can be such a powerful tool, if you have the right therapist. For those that we serve, and advocates in the field, that hold marginalized identities, finding a therapist that shares even one of your identities can be profoundly difficult. In 2018 data collected by Zippia, it was found that of the 198,811 therapists identified as employed in the US, 70.4% were women and 77% were White (note: there was no data listed for gender or sexual identity of therapists on this site). Before I continue, I'll preface this post with my identities- I am a White, cisgender woman with a Masters in Social Work from a predominantly White institution (PWI). 
Not being able to find a therapist that you can connect with, whether that be in age, race, culture, gender, or sexual identity has a huge impact on whether or not finding a therapist will take longer and be more difficult, and once you do find someone, the lack of shared identities may make the trust building and therapeutic process more challenging. I was listening to an interview on one of my favorite podcasts the other day where this issue was brought up. Roy Wood Jr. of The Daily Show with Trevor Noah was interviewing two of his Black colleagues, X Mayo and Ashton Womack, about Black mental health and the difference that having a Black therapist can make. Ashton opens up about his own experiences looking for a Black therapist while he was battling depression as well as research he discovered while writing material for a segment on The Daily Show. What he shared aligns with the data points listed above. There were very few Black therapists, and culturally competent therapists. Additionally he shares the stigma that is prevalent in the Black community around mental health. This stigma is, at least, partially rooted in histories of abuse and not being believed by health care systems, including mental health care, and can be a deterrent in seeking traditional therapeutic services. Ashton's  first inclination before seeking support from a licensed therapist was to access support through a church leader whom he trusts. I share this anecdote to highlight both the importance of finding a therapist that you can trust and feel comfortable with, and that pushing therapy as self-care doesn't work for every person and we must recognize the very real barriers that people face and meet them where they are. 
One thing we can do as advocates is know who the culturally competent providers in our community are and/ or how to help someone access a therapist that has shared identities (if that's important to them). Rachel Cargle is a Black American activist, author, and speaker who started the Loveland Foundation. The Loveland Foundation is dedicated to helping Black women and girls find and access culturally competent therapy through connection and funds. If you're working with a Black survivor that is interested in accessing therapy but is struggling to find the right therapist or pay for therapy the Loveland Foundation may be able to help. In addition, here are other resources for you to explore to find culturally competent therapists:
National Queer and Trans Therapists of Color Network 
*Note: these resources are specific to serving the Black community 
I started this blog post with a quote from Simone Biles because her withdrawal from the final individual all- around competition at the Tokyo Olympics, citing her mental health as the reason she needed to step back, sparked an international conversation on the importance of mental health. I know many advocates not only recognized and heard the call for more of an emphasis on mental wellness for elite athletes, but also a reminder that people do not exist in vacuums and their identities are not separate. Simone Biles is a young Black woman, an athlete, and a survivor. The survivors we serve are also athletes, parents, friends, advocates, students, and to Simone's quote all have a "sport" of sorts that's important to them. The survivors we serve all hold varying identities, come from different backgrounds, and have diverse needs. It is imperative that when we talk to clients about self- care strategies, such as therapeutic support, that we honor all of their identities and facilitate connections to providers and resources that will make them feel heard, seen, and supported. 
To listen to the full Daily Show episode, click here 
NCCASA is excited to announce the 2021-2023 Board of Directors. Visit our team page to view our Board!
annual report FINAL

In August we completed the capstone of an almost two year collaboration with a local reentry council and rape crisis center to bring resources into the community for survivors of sexual assault who were also returning home after incarceration. These resources and the story of our collaboration is found in the Supporting Survivor Reentrants: Learning to Serve Those Returning Home resource manual. 
One of the challenges our team faced was achieving a shared language around sexual violence and formerly incarcerated survivors. We needed language that took into consideration the culture of fear and silence that forbids disclosures. We needed to understand that for reentrants it was often safer to not recognize sexual abuse, talk about it, or deal with it. So then, how do you share information about services for trauma that people are too afraid to talk about? How do you encourage programs to (knowingly) work with those who bear the burdens of stigma and misunderstanding? 
Our team relied on each other as co-learners as we realized together that 1) the stigma of incarceration and criminal records tend to bury the fact that they are survivors too, and 2) our rape crisis programs were not intentionally developed with formerly incarcerated people in mind. 
That being the case, there are things we can practice to create cultures of safety for survivors. One is considering the language that we use to talk about survivors who are formerly incarcerated. Just as we work to achieve a shared language around sexual violence that reaches all survivors, we can practice person first language as a way to reduce the stigma of incarceration. 
Language that emphasizes a person's humanity helps service providers more easily see the person who has survived sexual violence rather than the "perpetrator" for whom the experience of rape is sometimes considered just a "normal" part of prison life. We emphasize the importance of person-first language: not an inmate, felon, or excon, but a formerly incarcerated person or youth in detention. Or even better, mother, father, daughter, auntie. 
In the Executive Summary of People First: The Use and Impact of Criminal Justice Labels in Media Coverage, the authors report on the "quantitative and qualitative research to document trends in how the press describes people directly impacted by the criminal justice system and the effect of their language choices on public opinion" which shows us the impact on those returning home (p 3). 
Respondents were exposed to mock newspaper headlines and ledes that used either dehumanizing or people first language to test the impact of the word choices being made by the media. Seventy Five percent of these mock news stories (6/8) showed significantly lower support for reform or for the people discussed in the story when dehumanizing language was used. Respondents 50 years or older, a group that is more likely to be rural, white, and conservative, were the most likely to shift their views based on the language used (p 3).
Directly impacted people have long argued for people first language and demonstrated the ways in which dehumanizing labels make it harder for them to successfully live and thrive. This new research also shows that they entrench bias in the public and make it more difficult to advance reforms that would support, empower, and free those impacted by the criminal justice system (p 4).
In "An Open Letter to Our Friends on the Question of Language," by Eddie Ellis, the founder of The Center for Nuleadership on Urban Solutions, draws our attention to the power of "naming" throughout civilization, and argues how "calling me inmate, convict, prison, felon, or offender indicates a lack of understanding of who I am, but more importantly, what I can be (p 1)." Ellis also shares these recommendations to weave into our speech habits:
Be conscious of the language you use. Remember that each time you speak, you convey powerful word picture images.

Stop using the terms offender, felon, prisoner, inmate, and convict. 

Substitute the work PEOPLE for these other negative terms.

Encourage your friends, family and colleagues to use positive language in their speech, writing, publications and electronic communications (p 2).
As DeAnna Doskins and Zoe Towns write: "carceral labels compound punishment by reducing people to their worst moments, codifying stigma and haunting people for years after sentences are served." And when that occurs, we reinforce the barriers for these survivors of sexual violence to get the help that they need. 
The words we choose and the language we use have power. The changes, however, are gradual, imperceptible even. But isn't everything like that? Small, intentional acts practiced daily over time bring growth and change. Collectively, we can maximize our impact for good when we choose to SEE and CENTER the humanity of ALL. 
Blog post by Courtney Dunkerton, Anti-Human Trafficking Specialist
Sources Cited
Elderbroom, B., F. Rose, & Z. Towns, (2021). People First: The Use and Impact of Criminal Justice Labels in Media Coverage. Retrieved from People First: The Use and Impact of Criminal Justice Labels in Media Coverage .
Ellis, E. (n.d.) An Open Letter to Our Friends on the Question of Language. Retrieved from  An Open Letter to Our Friends on the Question of Language.
Hoskins, D & Z. Towns. (August 25, 2021) How the Language of criminal justice inflicts lasting harm. The Washington Post. [Editorial]. Retrieved from Opinion | How the language of criminal justice inflicts lasting harm .
RFA #A386: North Carolina Rape Prevention and Education Program: Community Approaches to Preventing Sexual Violence is now out to apply for funding for Sexual Violence Prevention. Click for more details about this 3-year funding source.
…
With the new request for applications (RFA) to fund Rape Prevention and Education (RPE) work in NC's communities, we wanted to take a moment to highlight some of our current creative community prevention happening across the state. 
But first, some  background!
…
Recent prevention guidance has emphasized the importance of addressing community and society level risk and protective factors. 
What this means:
Public health research has identified risk and protective factors for sexual violence. Risk factors

increase

the likelihood of violence occurring, and protective factors either

reduce

the likelihood that violence will happen or

mitigate

its impacts if it does happen.

Risk and protective factors aren't just for

experiencing

sexual violence. We know risk and protective factors for

perpetration

of sexual violence, too. (

See this CDC list.

) This means we can prevent sexual violence before it ever happens by reducing risk factors for perpetration and increasing protective factors.

The risk factors addressed in NC's state action plan include rigid adherence to gender norms, lack of non-violent problem-solving skills, and community norms that support aggression against others. The protective factors in NC's state action plan include community support and connectedness, and coordination of community resources. You can see the full list in

NCCASA's Prevention Plan at a Glance

.

Risk and protective factors can exist at every level of what we call the "Social Ecological Model." Because risk and protective factors can be either individual, relationship, community, or society-level factors, an effective and comprehensive strategy will address the community and society-level factors instead of just individual and relationship.

A plain-language explanation for why community and society level prevention ("outer-layer" prevention) is important is: "If we teach kids good communication, healthy relationships, and non-violent problem solving skills but then send them back out into the same community that normalizes violence and aggression, it will be less likely to stick." When we shift norms in the communities, our education efforts will be better supported. In fact, if we shift the norms in the communities, less of the curriculum-style education will be needed!
…
So how do we put this into practice?
There are as many ways to put it into practice as there are communities in North Carolina! The trick is to assess your community, its readiness for different kinds of approaches, its needs and norms, and your agency's unique strengths and areas for growth.
Following are a few specific examples and highlights of creative prevention happening in NC. Remember, what works in one community might not work in yours. The key is getting creative, and realizing prevention is more than just delivering curriculum to youth.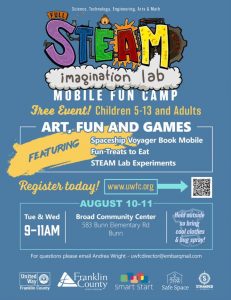 Safe Space in Franklin County is no stranger to community-level prevention in a rural county. In the past, they've done extensive Barber Shop Outreach (pictures), creative use of family films to spark intergenerational discussion about feelings (video), and launched the Love Level Up website as a hub for their teen dating violence activities. Most recently, they hosted a Mobile STEAM Summer Fun Camp to increase community connectedness while fostering healthy relationships and nonviolent problem-solving skills. This camp was hosted in partnership with United Way, Franklin County Health Department, Franklin County Library, Smart Start, Franklin County EMS, and Franklin County Parks and Recreation — connecting resources for families all in one place to both build community and increase coordination of services!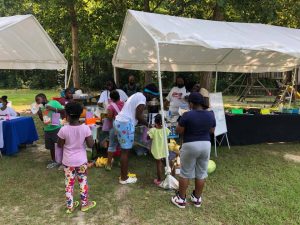 They were able to connect with 60 adults and children in Franklinton, and another 80 in Louisburg, and as of our last check in they were excited about the final stop on their tour in Bunn, NC. Before implementing the camp, Safe Space and United Way staff and volunteers participated in 6-week art therapy training and community engagement training, and provided a full-day training for all event volunteers on community youth engagement facilitated by Monica Daye of Durham-based Stand Up Speak Out. At the camp, children visited the following tents for learning and activities: STEAM, art therapy, healthy relationships, and resilience for pro-social enhancements, and adults could visit the adult self-care station. Other available activity stations included EMS, Library, Fire Department, and the Girl Scouts, as well as free lunch and free snow cones and snacks along with plenty of bottles of water for the North Carolina heat!
When asked, Traci Dunston, RPE Coordinator at Safe Space said that the greatest benefits Safe Space has experienced through collaborating with other agencies include reducing fragmentation of services within the community and bringing togetherness, building greater trust for the community, more resources to do prevention work with, and having more staff-power to get things done. And they know how to get things done! Traci added, "Remember together is always better, we don't have to reinvent the wheel, we don't always have to take the lead… let's join forces and create better, safer communities." Traci said that when we align with other community organizations who share some of our values, we build buy-in and trust by "being authentic and doing what we say we'll do."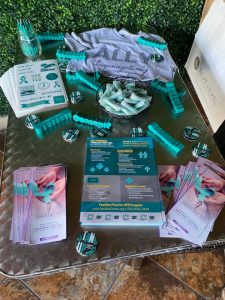 In Columbus County, Families First RPE Coordinator Omar Godwin recognized that rigid gender norms and the need to build empathy for those who don't fit those norms offered unique opportunities for sexual violence prevention in his rural county. With the support of his full agency, Omar helped spearhead a recent Ally Night at a local restaurant. Omar wanted to be sensitive to his rural community's values while pushing the needle toward acceptance of all people in Columbus County. Together, staff created thoughtful language that highlighted allyship and support as positive values that even nervous community members could get behind. "Come mingle and meet the allies/staff of Families First! Whether you are expressing your own self or standing in as an ally, let's come together to make a difference in our community!"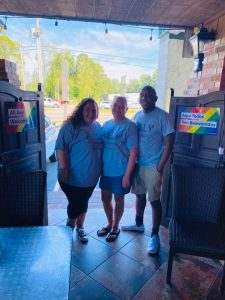 The event wasn't without its bumps — some county government advertising venues that the organization usually uses to promote its events were not available for what the government considered "a sensitive social issue," but the event itself was a success! At the event, Families First discovered they had allies they hadn't previously realized, including several local school staff and community leaders, and it gave community members a chance to connect with Families First in a non-crisis setting to learn more about their work and about sexual violence prevention. The event ended with Families First having more volunteers, and new members interested in joining their county-wide multidisciplinary sexual violence prevention task force, which steers the county's community-level prevention strategies. See pics of their incredible Ally Night on Facebook!
When asked what guidance he would offer others who might be nervous about doing a similar event in rural communities that are not always known to be safe for LGBTQ people, Omar said, "First and foremost step out on faith. Make sure you plan the event in a space that is safe, and as far as your marketing is concerned, be sure to use wording that will appeal to those interested, and not to anyone that would be a threat to its success or safety."
In rural Watauga County, OASIS RPE Coordinator Kellie Bass realized that several Christian faith-based allied organizations were supportive of ending sexual violence and interested in talking about the issue, but had different needs and language, which often left them out of many dialogues in the movement to end sexual violence. "Faith and rural communities are often forgotten and difficult to reach in some prevention work, which means that any cycles of abuse existing within those communities may feel impossible to end," Kellie explained. OASIS has been developing faith-based materials for doing prevention work in local faith communities to bridge this gap. "Through our intentional focus on prevention programming in the faith community, we are working to reach religious communities and end the abuse they may be experiencing or perpetuating."
In Guilford County, Children's Home Society's new RPE Coordinator Nnenne Asi hit the ground running through implementing sexual violence prevention programming (to include youth curriculum and family support programming) at a local transitional living community, ensuring that families transitioning out of homelessness, many of whom have higher numbers of risk factors for sexual violence, have support and connectedness in addition to information about healthy relationships and nonviolent communication.
After attending NCCASA's Prevention Intensive on Racial and Gender Justice (facilitated by A Call to Men), Durham County's Durham Crisis Response Center RPE Coordinator Sam Peterson developed a plan for several months of messaging in his community about healthy and unhealthy expectations about masculinity, including a social media campaign as well as a series of panel discussions and live-streamed events. Sam also had a wonderful opportunity for a creative community partnership when a local Latina mother asked DCRC to partner with her on presenting sexual violence prevention programming to a group of adolescent Latina girls, building both opportunities to present culturally-responsive programming and to involve parents as collaborators in prevention work, strengthening family and community connections through the process!
The Rape Crisis Center of Coastal Horizons in New Hanover County has done some creative community-level work as well, through strengthening school partnerships and co-facilitating the county's Title IX task force. While their school-based programming does center on individual/relationship level curriculum instruction in schools, they've added a unique community-level twist by training 20 health and physical education teachers and an additional 6 family life educators in their school district to be the implementers of the Shifting Boundaries curriculum. Receiving facilitator training empowers these teachers to be leaders in their school communities, advocates among their district staff, and trusted adults delivering the programming. RPE Coordinator Janie Dowda partnered with prevention staff at the local partner violence agency to launch this program, and now serves as a training and technical assistance provider for the school staff, amplifying her program's impact through empowering others to lead. 
OCRCC in Orange County also added a community-level twist to their school-based individual/relationship instruction by supporting the creation and work of Youth Against Rape Culture (YARC) – a high school student advocacy group! By taking teens who were engaged in the curriculum content and giving them support, empowerment, and opportunities to continue shifting the culture in their schools, OCRCC is fostering youth leadership in changing cultural norms in their school communities and peer groups.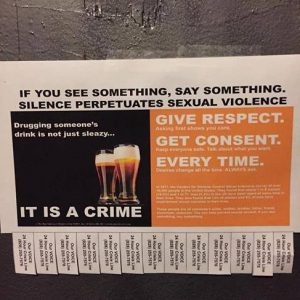 In Buncombe County, Our Voice has long been a leader in bar-based community prevention strategies. Their Bar Outreach Project, which includes its own manual, is currently being evaluated by RTI in partnership with the CDC to evaluate effectiveness and produce research that could be used to implement similar programs in other communities. You can learn more about their project in this PreventConnect web conference: Cheers to Creating Protective Environments: Sexual and Intimate Partner Violence Prevention in Bars and Alcohol-Serving Establishments.
And NCCASA completed a comprehensive 6-module training series for Guilford County Schools in 2021, in which over 2300 district employees participated in at least some of our Schools Creating Optimal Protective Environments (SCOPE) training, with over 230 completing all six 90-minute modules (NINE HOURS!), including education about child sexual abuse, human trafficking, sexual assault, power dynamics, grooming, trauma-informed schools, healing-centered care, violence prevention, bystander intervention, Title IX, mandatory reporting, and the adultification of Black girls. We rounded out our school year partnership with GCS by offering a three-day train-the-trainer for a small number of school teachers, counselors, and social workers who had attended SCOPE modules and wanted to be part of educating their peers in the coming year by delivering the SCOPE modules themselves. 
The goal of SCOPE training is to meaningfully empower school districts with a robust sexual violence prevention strategy educating school and district staff with meaningful knowledge to address sexual violence at all levels of the social ecological model (individual, relationship, community, and society). While SCOPE does include skill-building elements and individual/relationship-level teachings, it is focused on shifting community norms that normalize violence. By providing deeply-engaged, comprehensive, and meaningful sexual violence training to such a high number of district staff, encouraging them to continue each module's conversations with their peers, and empowering them to be leaders in ending sexual violence in their school communities, we are changing the school culture.
NCCASA is currently working on developing SCOPE into a program that will be available statewide, and that local rape crisis centers can be trained to implement in their own communties' schools.  To be notified when we are ready to begin offering SCOPE trainings or to get trained to deliver SCOPE in your county's schools, sign up here.
…
To learn more about creative community prevention, or to discuss your ideas for strengthening sexual violence prevention efforts in your community, contact NCCASA Prevention Education Program Manager, Chris Croft.
…
RFA #A386: North Carolina Rape Prevention and Education Program: Community Approaches to Preventing Sexual Violence is now out to apply for funding for Sexual Violence Prevention. Click for more details about this 3-year funding source.
August 4, 2021
The North Carolina Coalition Against Sexual Assault is disappointed in New York Governor Andrew Cuomo's actions that are outlined in an AG Report that details repeated sexual harassment in the workplace. We support and believe in the survivors that have come forward with their survivorship stories. NCCASA condemns all forms of sexual violence, including sexual harassment and abusive behavior. 
The report issued by New York Attorney General Letitia James documents repeated sexual harassment and a hostile work environment perpetrated by Governor Cuomo and the Executive Chamber. Independent investigators found that Governor Cuomo sexually harassed multiple individuals from 2013-2020, and found violations of multiple state and federal laws.
NCCASA calls for accountability for Governor Cuomo's actions, and echoes the words from fellow state coalition, the New York State Coalition Against Sexual Assault (NYSCASA):
"Governor Andrew Cuomo must take accountability for his harmful actions and for perpetuating a hostile work environment by stepping down from his position as Governor of New York. If he refuses to take accountability himself, NYSCASA calls on the Legislature to carry out its constitutional responsibility and hold Governor Cuomo accountable for his actions."
We additionally want to thank the survivors who came forward, as it takes a great deal of courage to speak against positions of power. We will continue to work for you, and for all survivors, until we live in a world free from sexual harassment, abuse, and violence. 
The Rape, Abuse, & Incest National Network (RAINN), organizes the National Sexual Assault Telephone Hotline. The Hotline is a referral service that can put you in contact with your local rape crisis center. You can call the Hotline at 1-800-656-4673, or access RAINN's online chat service. To find your local rape crisis center in North Carolina, please visit our Get Help page at https://nccasa.org/get-help/. 
In Solidarity,
Executive Director, NCCASA
I am so glad to finally share with you in an August 10, 2021 training the resources our Supporting Survivor Reentrants Team has developed This is the result of one and a half years of brilliant minds and passionate hearts working together to improve services for surivors of sexual violence and human trafficking who are returning home.
One impact of mass incarceration is mass reentry. North Carolina incarcerates 639 per 100,000 annually and each year 22,000 individuals are released from state prisons back into North Carolina communities. COVID-19 increased these numbers, and many who were released were elderly, those with COVID-19 needing immediate medical treatment, and many without a post-release plan in place to coordinate housing and other needs. Reentrants face enormous challenges to meet daily needs of housing, employment, transportation, and recovery services. Recidivism rates are high because of these unmet needs. Trauma from sexual violence experienced prior to, during, or post release compounds these challenges. Additionally, the culture of silence and shame of sexual abuse among justice-involved individuals coupled with the "cost of disclosure" creates even greater barriers to healing.
Through funding from the NC Governor's Crime Commission, NCCASA collaborated with member program Orange County Rape Crisis Center and the Orange County Local Reentry Council to develop the Supporting Survivor Reentrants Resource to address this service gap in a local community. We are pleased to introduce this resource and hope that you will join with us in reducing sexual violence among the justice-involved while strengthening responses to sexual violence on a national, statewide and community level.
In this two-hour workshop Anti-Human Trafficking Specialist and Project Lead, Courtney Dunkerton, will facilitate a panel of the Project Team representing Orange County Rape Crisis Center, Orange County Local Reentry Council, and national partner, Just Detention International, in which they will discuss challenges, successes, and lessons learned. They will also highlight the needs and barriers to services for survivor reentrants, discuss the work of NC Local Reentry Councils, and share evaluation findings and recommendations.
You will also have access to two resource tools: The BLESS Tool Booklet and the Returning Home Resource and Guide for Service Providers. The workshop will provide training on how to use these tools.
It is our sincere hope that this resource, Supporting Survivor Reentrants, will inspire you to create cultures of healing for ALL in your own communities. 
You can register for this training here. Hope to see you!
– Blog post by Courtney Dunkerton, Anti-Human Trafficking Specialist
On Tuesday evening, the US Senate voted unanimously for the VOCA Fix to restore billions in funding to ensure safety for crime victims both in North Carolina and across the country. This bill was the result of bipartisan, bicameral support and many months of work from advocates and survivors in every state. NCCASA commends the US Senate for putting survivors and services first.
"Thank you to everyone for advocating with our senators," said Monika Johnson Hostler, Executive Director of NCCASA. "Thank you for sharing the impact this funding will have on your community."
The North Carolina Coalition Against Sexual Assault (NCCASA) is pleased to announce and open registration for the 2021 Young Advocates Institute Summer Off Season Cohort, August 9-18, 2021.
This year is the 10-year anniversary of the Young Advocates Institute. For the past decade, the Young Advocates Institute has been rigorous training grounds for over 1,800 youth across North Carolina. Merging the prevention/intervention of sexual and dating violence +social justice + education + advocacy + love + hip hop and popular culture lens + intergenerational approach, the Young Advocates Institute is a soulful and liberating experience. 
This year will be very different and only open to twenty (20) youth, ages 13-17.  We will combine the virtual aspects from 2020 + a cohort framework with twenty (20) brilliant minds + a community service project + two (2) day meeting + an end of year conference call for what will be the 2021 Young Advocates Institute Summer Off Season Cohort.
Below you can find:
2021 Young Advocates Institute Cohort Frequently Asked Questions
2021 Young Advocates Institute Preview Application
You must apply for the 2021 Young Advocates Institute Summer Off Season Cohort via the online application at https://www.surveymonkey.com/r/2021YAICohort
The deadline to apply is Friday, July 23, 2021. Selected members of the cohort will be notified by Friday, July 30, 2021.
If you have any further questions, please don't hesitate to contact Tracy Wright at (919) 871-1015 or via email tracy@nccasa.org
2021 YAI Cohort FAQ

2021 YAI Cohort Preview Application

On April 27th, District Attorney Greg Newman was removed from office in Henderson, Transylvania, and Polk counties. The court found that Newman engaged in "willful misconduct in office" as well as "conduct prejudicial to the administration of justice which brings the office into disrepute," under N.C. General Statute 7A-66. This was the third time in North Carolina history that a district attorney has been removed. This would have never happened without the courageous efforts made by the survivors whom he abused. 
NCCASA supports all sexual violence survivors, and lifts up the work of the rape victims who bravely stood in their power to have DA Greg Newman removed from office. The dozen families who made the decision to pursue his removal deserve our praise and respect, including the survivors who will never see the justice they deserve in their cases. We recognize the additional trauma that the justice system added to the lives of the survivors, and the horrific choices that Newman made to embarrass or belittle those he was elected to protect  is unforgivable. The actions the survivors took to support one another is historic and NCCASA recognizes the courage it takes to stand up to a system that has repeatedly mistreated survivors and prevent it from happening to others. 
We stand strong with survivors as they pursue different avenues to find justice and healing for themselves, whatever it may be. Proceeding within the criminal justice system can be incredibly stressful and trying, and we commend survivors on their strength and bravery to do so. 
If you have any questions about this ruling or any other legal cases, feel free to reach out to NCCASA attorney Skye David at skye@nccasa.org or at 919-871-5868.