NCCASA SPRING 2022 MEMBER MEETING-REGISTRATION NOW OPEN
We hope that you will join us for NCCASA's Spring 2022 Member Meeting.  We will gather in virtual community on Tuesday 6/14/22 from 10am-3pm. Breaks will be provided throughout the day, including an hour lunch break.  NCCASA is excited to meet with members and hear directly from you and allowing space for peer sharing. Click here to register.
NCCASA, alongside the nation, has been processing the leaked Supreme Court draft decision that was released on Monday night. At NCCASA, we know that reproductive justice is essential to ending sexual violence, and the impacts of this pending decision will impact survivors across North Carolina and the nation. Advocates and survivors intimately know that intimate violence is centered in power and control and oftentimes, harm doers use reproductive choices, or lack thereof, against a survivor. 
NCCASA believes that in order to end the cycle of power and control in violence cases, survivors must have options to seek personalized medical care, have a variety of healthcare options, and ultimately, the option to make their own reproductive choices. Limiting this access will disportionately impact marginalized communities, and could ultimately result in more harm and violence for survivors. 
While the news about the potential Roe decision is upsetting, NCCASA wants to assure survivors that we are a resource. Currently, Roe stands. In North Carolina, abortion care is available, and there are resources for survivors needing access to reproductive care across the state. 
Courtney Dunkerton, NCCASA Human Trafficking Program Coordinator
This month we have the opportunity to support survivors with mental health needs by raising awareness, fighting stigma, and supporting efforts that promote mental wellness. We can also provide greater access to information about hotlines, local mental health service providers and services that contribute to mental wellness. We can also support practices and policies within our organizations that promote mental wellness not only for survivors but also employees.
However, even with all the existing and emerging information on the prevalence and impact of mental illness, a great deal of stigma remains in our US culture. We have the opportunity to educate others in our collective networks and relationships that mental illness does not originate in individual choices or failures. 
Understanding the prevalence of mental health needs is a way to reduce stigma around mental illness. Here are some numbers from The National Alliance on Mental Illness (NAMI)'s Infographics: Mental Health By the Numbers:
1 in 5 US adults experience mental illness

1 in 20 US adults experience serious mental illness

17% of youth (6-17 years) experience a mental health disorder

1 in 5 young people report that the pandemic had a significant negative impact on their mental health

70% of youth in the juvenile justice system have diagnosable mental health conditions

About 2 in 5 people who are incarcerated have a history of mental illness

66% of women in prison reported having a history of mental illness

Among incarcerated people with a mental health conditions, non-white individuals are moer liely to be held in solitary continemenst, be injured and stay longer in jail

Overall suicide rate in the US has increased by 35% since 1999

Suicide in the 10th leading cause of death in the US and the 2nd leading cause of death  among people aged 10-34 in the US
Most importantly, we must center the significant mental health needs among marginalized communities:
Latina immigrants

meet the threshold for

post-traumatic stress disorder (PTSD) diagnosis at nearly four times (34%) the rate of civilian women

in America overall (9.7%)
Research suggests that

LGBTQ+ individuals

face health disparities linked to societal stigma, discrimination, and denial of their civil and human rights.

Discrimination against LGBTQ+ persons has been associated with high rates of psychiatric disorders, substance abuse, and suicide.
Despite rates being less than the overall U.S. population,

major depressive episodes increased from 9 percent-10.3 percent in Black and African American youth

ages 12-17, 6.1 percent to 9.4 percent in young adults 18-25, and 5.7 percent to 6.3 percent in the 26-49 age range between 2015 and 2018.

Black and African American people living below poverty are twice as likely to report serious psychological distress

than those living over 2x the poverty level. 
Adult Blacks and African Americans are more likely to have feelings of sadness, hopelessness, and worthlessness than adult whites. 
Blacks and African Americans are less likely than white people to die from suicide at all ages. [8] However,

Black and African American teenagers are more likely to attempt suicide than White teenagers

(9.8 percent v. 6.1 percent).
Survivors of sexual abuse need mental health support. The research from "Sexual abuse and lifetime diagnosis of psychiatric disorders: systematic review and meta-analysis." Mayo Clinic proceedings vol. 85,7 (2010): 618-29, concludes that "a history of sexual abuse is associated with an increased risk of a lifetime diagnosis of multiple psychiatric disorders." According to the research, these diagnoses  included anxiety disorder, depression, eating disorders, posttraumatic stress disorder (PTSD), sleep disorders, and suicide attempts.
Provide information on:
May is a great time to focus on creating more equitable access to resources and information that support wellness for the whole person. Mental health is a key part of that support. 
Inscríbete en La Cumbre de Prevención Virtual, Conversaciones comunitarias sobre justicia social y de géneros. Acompáñanos durante dos sesiones virtuales el 18 y 23 de mayo para crear/refrescar nuestro ámbito de trabajo contra la opresión y para enumerar las causas fundamentales de la violencia sexual en nuestras comunidades. Para ello, contamos con líderes en este campo que incluyen a: Chimi Boyd-Keyes, Deena Fulton, Root Cause Collective, Minority Sex Report, y muchos más, y que nos ayudarán a pensar en formas de integrar nuestros esfuerzos de prevención y establecer colaboraciones comunitarias, a fin de prevenir toda forma de violencia contra todas las personas.
Haz clic aquí para ver la agenda y las descripciones de las sesiones. La cumbre es gratuita para los miembros de NCCASA, y $25 para los que no son miembros- haz clic aquí para inscribirte. La página de inscripción es en inglés.  Haz clic en la palabra "Translate" (Traducir) en la esquina superior derecha y selecciona la opción "Spanish" (Español) de la lista desplegable para ver la versión en español.
Esta cumbre incluirá:
4 sesiones plenarias de grupos grandes

1 panel de debate

Oportunidades para discusiones en grupos pequeños para fomentar la comprensión dentro y fuera del movimiento contra la violencia

10 horas de entrenamiento
Sesiones opcionales de autocuidado

Interpretación en ASL y español; subtítulos automáticos en vivo a través de Zoom
¡Haz clic aquí para inscribirte!
Registration is open for the 2022 Prevention Summit, Community Conversations on Racial and Gender Justice Collaborations. Our summit will be held virtually, over Zoom on May 18 & May 23.  Join us to build/ refresh our anti-oppression framework and to name root causes of sexual violence in our communities. With guidance from leaders in this work, including Chimi Boyd-Keyes, Deena Fulton, the Root Cause Collective, Minority Sex Report, and more we'll brainstorm ways to de-silo our prevention efforts and build community collaborations to prevent all forms of violence for all people.
Click here to view the agenda & session descriptions and click here to register through Coalition Manager.  The summit is free for NCCASA members, $25 for non-members! 
Registrants can expect:
4 large group plenary sessions

A panel discussion

Opportunities for small group discussion & connection with people within and beyond the anti-violence movement

Opportunity to receive up to 10 training hours
Self care breakouts & on-call advocates

ASL and Spanish language interpretation; live automated captions via Zoom
We look forward to being in community with you all! Click here to register!
NCCASA is happy to introduce our newly revised Sexual Assault Advocacy Fundamentals Course. This course is broken up into two parts and will provide 20  hours of training.  If you are an advocate at a state recognized Rape Crisis Center, this training will provide you with the hours and skills needed to have advocate privilege.  This training is open to anyone with membership.  We have included resources, citations, a link to directly email NCCASA for technical assistance, self-care breaks and quiz's.  This course is intended to replace Sexual Assault 101 and 102 webinar/in person  trainings and the previously launched online module "Sexual Assault 101 Learning Course".  We are so excited to offer this new opportunity to members to further their training and capacity and hope that you enjoy your experience. If you have any questions or technical issues, please contact Deanna Harrington at training@nccasa.org. Click here to register.
Happy Learning!!
Say to them,
say to the down-keepers,
the sun-slappers,
the self-soilers,
the harmony-hushers,
"Even if you are not ready for day
it cannot always be night."
You will be right.
 -Speech to the Young: Speech to the Progress-Toward by Gwendolyn Brooks
-Bold made popular by TikTok & Kanye West 
You are invited to the U.S. National Action Plan on Gender-based Violence: A Listening Session for Youth of Color on Wednesday, February 23, 2022 at 6pm/Eastern.  This is an opportunity to center youth of color voices, highlight themes, and give recommendations to the White House Gender Policy Council as they develop the first ever U.S. National Action Plan to End Gender-Based Violence. In addition to lifting up gender-based violence, the space will examine social justice, reiterate the power of youth voices, and encourage the pursuit of joy and dreams. The session has been created for and by youth of color, ages 13-17 years old.  Representatives from the White House, Caroline Bettinger-López and Rosie Hidalgo will be in attendance for this session, creating an unprecedented opportunity for youth of color to inform the recommendations being put forth.
Understanding that the content is both hard to think through and talk about, immediately after the session, a licensed therapist of color, will host a wellness space for thirty (30) minutes that will offer practical mental health activities and tools. 
We have put together a list of 
frequently asked questions
to guide youth of color and parents in understanding the intent and potential impact of the listening session.
Register for the 
U.S Action Plan on Gender-Based Violence: A Listening Session for Youth of Color
 on Zoom 
here
.
Please share the event flyer with your youth of color contacts and networks.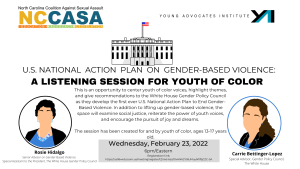 Feel free to contact Tracy D. Wright from the North Carolina Coalition Against Sexual Assault at (919) 871-1015 or 
tracy@nccasa.org
 with any additional questions.
One thing I love about NCCASA is the way we work out and apply trauma-informed advocacy and education and that means when things are rough, we are encouraged to be gentle with ourselves and adjust. I feel this way about Human Trafficking Awareness Month (HTAM) occurring during a global pandemic, and all that that has brought with it. 
So how to bring a trauma-focused framework into January 2022? 
One way is practicing awareness of and making adjustments to information-overload, lessened "margin," and the daily uncertainty that goes with a pandemic.  In that context, I share with you a few thoughts on ways to observe Human Trafficking Awareness Month.
Screen Out the Noise
Resist the pressure that "doing anti-trafficking work" is always being hyper-focused on what all the other organizations are doing. We are not in competition with one another and don't have to "keep up," or duplicate others' work. We can choose quality and evidence-informed resources and training opportunities for ourselves that promotes learning that will most benefit survivors. 
Unfortunately a lot of "noise" that needs screening out includes popular information about human trafficking that is simplistic, sensational, and excludes marginalized survivors whose needs are not acknowledged. Instead, we can look to trusted organizations and nonprofits that do quality,  peer-reviewed work with integrity. (See below for some resources.)
Choose Impact over Outputs
Focus on what will help you and others in your community better identify and serve survivors of human trafficking. You can choose how you will engage on social media in a way that will be most effective in your community. One thoughtful but simple social media post or community presentation combined with information about your services and referral process can go much  further than resharing posts that do not relate to your community's culture or needs. 
Remember: you can be extremely effective with a single presentation to a smaller but strategic group, especially with follow up and an ongoing relationship. 
(Re)Center Survivors
We can get off track when we are influenced by those whose anti-human trafficking work does not represent ALL survivors. We can get off track when we compete with one another and  promote ourselves. And it may sound ironic, but we forget survivors when we believe it is all up to us to "save" them. We can also forget that survivors are already in the work of human trafficking advocacy and leadership without others' acknowledgement of their survivor status. We can forget survivors when we don't listen to learn, but only dictate to and patronize. 
We can "re-center" survivors in the work by having a discussion among all or some staff about what this means in your organization. Review the Policy/Advocacy briefs by the  National Survivor Network as survivor-led guidance in your work.
Build through Relationships
We continue to feel the impact of isolation from this global pandemic and the fallout from an intensely polarized country, which has challenged our personal and work relationships.  Much has changed in our culture, but the fact remains that human connection is a felt need and is vital for promoting cultures of healing in our communities. Finding ways to build safe, supportive relationships among other service providers and stakeholders will improve our service provision to survivors. Collaboration isn't just a word in a mission statement or grant application and it doesn't require a grant or an MOU to get a cup of coffee with someone.
It can feel challenging to prioritize it if we are always operating in crisis, but I can promise that proactive relationship building will prove its worth over time. We can choose one or two people to reach out to this month as a great way to observe Human Trafficking Awareness Month.
Below is a very short list of excellent resources that will help you in your work as we observe Human Trafficking Awareness Month. You can use them in your own organization, or share them with others.
Blog post by Courtney Dunkerton, NCCASA Anti-Human Trafficking Specialist
When my friend Liz and I begin to organize a small group around the local problem of human trafficking, we got some solid advice from the then Executive Director of the child advocacy/rape crisis center we were working with. We had thought providing awareness training to community stakeholders would be sufficient, but were asked "so what are we going to do once people identify minor victims?" In other words, identification training with no intervention plan is incomplete. 
What is the impact of all the awareness outputs in North Carolina to identify and respond to suspected incidents of child sex trafficking? It depends. Quality, evidence-informed training that includes ALL survivors of child sex trafficking leads to identification of victims within systems and communities. We need a statewide victim protocol that not merely activates a criminal justice response, but provides sustained service that prioritizes well-being and healing AND that is consistent across all 100 counties. We do not have that yet. 
Calling a hotline and law enforcement investigating a tip is not an intervention plan. And yes, there are amazing examples of local communities pulling together and assisting a minor victim and their family. But what happens when the child must move across the state? Into another school with another family? Or is kicked out of a program because of chronic running away? Or when they age out of foster care? 
To address the commercial sexual exploitation of children together, we can't jump to an intervention protocol if we do not have the same information about the problem.   We need a starting point. That starting point is solid, reliable information about the problem:
Information that is not rooted in urban legends, sensationalized or politicized narratives or anecdotal misinformation

Information that is evidence-informed and peer reviewed by subject matter experts

Information that includes ALL survivor experiences, not just those that aligns with our individual biases

Information that is specific to current North Carolina legislation and policy.
This is why NCCASA chose to collaborate with the Justice U Education Consultants and Developers to provide North Carolina learners with the highest quality training program that meets the above standards in the online training series: Essential Knowledge for Addressing the Commercial Sexual Exploitation of Children in North Carolina.
And though the content was created by experts in the field across eight disciplines, the training program is very accessible without professional "jargon" that creates barriers to knowledge and understanding. Because of this, it can reach across disciplines and regions to educate organizations, businesses, nonprofits, faith communities, and any child-serving professionals.  Organizations can use the training to educate service providers, board members, staff, volunteers, multi-disciplinary teams and task forces. 
In this way, we build a statewide foundation of learners across systems who are equipped with accurate information about the problem of child sex trafficking. This is our starting place so we will have all the information we need to take the next step toward a statewide response to the commercial sexual exploitation of children. 
A while back I published a blog post  An Advocate's Response to the #Savethechildren Movement in which I asked the audience to consider how a lack of accurate information about child sex trafficking can actually harm children:
While the urge to fight the injustice of child sex trafficking and the desire to help victims is the right response, let's think first about the misguided and harmful impact of misinformation and "fake news." 
and 
Until we learn to see how human trafficking impacts the most vulnerable, we cannot truly address it in our communities.
NCCASA's work is to end sexual violence through advocacy, education, and policy. The Essential Knowledge for Addressing the Commercial Sexual Exploitation of Children in North Carolina serves that end. We hope you join us by learning and sharing.
---
To register for the training and earn CEUs and digital certification, go to:
https://learnwithjusticeu.com/csecseries-northcarolina/
"I say put mental health first because if you don't then you're not going to enjoy your sport and you're not going to succeed as much as you want to." – Simone Biles
---
One of our most common recommendations for self-care, or healing, is taking care of our mental health through therapy and counseling. Therapy can be such a powerful tool, if you have the right therapist. For those that we serve, and advocates in the field, that hold marginalized identities, finding a therapist that shares even one of your identities can be profoundly difficult. In 2018 data collected by Zippia, it was found that of the 198,811 therapists identified as employed in the US, 70.4% were women and 77% were White (note: there was no data listed for gender or sexual identity of therapists on this site). Before I continue, I'll preface this post with my identities- I am a White, cisgender woman with a Masters in Social Work from a predominantly White institution (PWI). 
Not being able to find a therapist that you can connect with, whether that be in age, race, culture, gender, or sexual identity has a huge impact on whether or not finding a therapist will take longer and be more difficult, and once you do find someone, the lack of shared identities may make the trust building and therapeutic process more challenging. I was listening to an interview on one of my favorite podcasts the other day where this issue was brought up. Roy Wood Jr. of The Daily Show with Trevor Noah was interviewing two of his Black colleagues, X Mayo and Ashton Womack, about Black mental health and the difference that having a Black therapist can make. Ashton opens up about his own experiences looking for a Black therapist while he was battling depression as well as research he discovered while writing material for a segment on The Daily Show. What he shared aligns with the data points listed above. There were very few Black therapists, and culturally competent therapists. Additionally he shares the stigma that is prevalent in the Black community around mental health. This stigma is, at least, partially rooted in histories of abuse and not being believed by health care systems, including mental health care, and can be a deterrent in seeking traditional therapeutic services. Ashton's  first inclination before seeking support from a licensed therapist was to access support through a church leader whom he trusts. I share this anecdote to highlight both the importance of finding a therapist that you can trust and feel comfortable with, and that pushing therapy as self-care doesn't work for every person and we must recognize the very real barriers that people face and meet them where they are. 
One thing we can do as advocates is know who the culturally competent providers in our community are and/ or how to help someone access a therapist that has shared identities (if that's important to them). Rachel Cargle is a Black American activist, author, and speaker who started the Loveland Foundation. The Loveland Foundation is dedicated to helping Black women and girls find and access culturally competent therapy through connection and funds. If you're working with a Black survivor that is interested in accessing therapy but is struggling to find the right therapist or pay for therapy the Loveland Foundation may be able to help. In addition, here are other resources for you to explore to find culturally competent therapists:
National Queer and Trans Therapists of Color Network 
*Note: these resources are specific to serving the Black community 
I started this blog post with a quote from Simone Biles because her withdrawal from the final individual all- around competition at the Tokyo Olympics, citing her mental health as the reason she needed to step back, sparked an international conversation on the importance of mental health. I know many advocates not only recognized and heard the call for more of an emphasis on mental wellness for elite athletes, but also a reminder that people do not exist in vacuums and their identities are not separate. Simone Biles is a young Black woman, an athlete, and a survivor. The survivors we serve are also athletes, parents, friends, advocates, students, and to Simone's quote all have a "sport" of sorts that's important to them. The survivors we serve all hold varying identities, come from different backgrounds, and have diverse needs. It is imperative that when we talk to clients about self- care strategies, such as therapeutic support, that we honor all of their identities and facilitate connections to providers and resources that will make them feel heard, seen, and supported. 
To listen to the full Daily Show episode, click here