White House Listening Session for Youth of Color on Gender-Based Violence
Say to them,
say to the down-keepers,
the sun-slappers,
the self-soilers,
the harmony-hushers,
"Even if you are not ready for day
it cannot always be night."
You will be right.
 -Speech to the Young: Speech to the Progress-Toward by Gwendolyn Brooks
-Bold made popular by TikTok & Kanye West 
You are invited to the U.S. National Action Plan on Gender-based Violence: A Listening Session for Youth of Color on Wednesday, February 23, 2022 at 6pm/Eastern.  This is an opportunity to center youth of color voices, highlight themes, and give recommendations to the White House Gender Policy Council as they develop the first ever U.S. National Action Plan to End Gender-Based Violence. In addition to lifting up gender-based violence, the space will examine social justice, reiterate the power of youth voices, and encourage the pursuit of joy and dreams. The session has been created for and by youth of color, ages 13-17 years old.  Representatives from the White House, Caroline Bettinger-López and Rosie Hidalgo will be in attendance for this session, creating an unprecedented opportunity for youth of color to inform the recommendations being put forth.
Understanding that the content is both hard to think through and talk about, immediately after the session, a licensed therapist of color, will host a wellness space for thirty (30) minutes that will offer practical mental health activities and tools. 
We have put together a list of 
frequently asked questions
to guide youth of color and parents in understanding the intent and potential impact of the listening session.
Register for the 
U.S Action Plan on Gender-Based Violence: A Listening Session for Youth of Color
 on Zoom 
here
.
Please share the event flyer with your youth of color contacts and networks.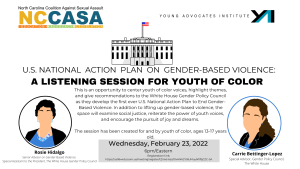 Feel free to contact Tracy D. Wright from the North Carolina Coalition Against Sexual Assault at (919) 871-1015 or 
tracy@nccasa.org
 with any additional questions.
One thing I love about NCCASA is the way we work out and apply trauma-informed advocacy and education and that means when things are rough, we are encouraged to be gentle with ourselves and adjust. I feel this way about Human Trafficking Awareness Month (HTAM) occurring during a global pandemic, and all that that has brought with it. 
So how to bring a trauma-focused framework into January 2022? 
One way is practicing awareness of and making adjustments to information-overload, lessened "margin," and the daily uncertainty that goes with a pandemic.  In that context, I share with you a few thoughts on ways to observe Human Trafficking Awareness Month.
Screen Out the Noise
Resist the pressure that "doing anti-trafficking work" is always being hyper-focused on what all the other organizations are doing. We are not in competition with one another and don't have to "keep up," or duplicate others' work. We can choose quality and evidence-informed resources and training opportunities for ourselves that promotes learning that will most benefit survivors. 
Unfortunately a lot of "noise" that needs screening out includes popular information about human trafficking that is simplistic, sensational, and excludes marginalized survivors whose needs are not acknowledged. Instead, we can look to trusted organizations and nonprofits that do quality,  peer-reviewed work with integrity. (See below for some resources.)
Choose Impact over Outputs
Focus on what will help you and others in your community better identify and serve survivors of human trafficking. You can choose how you will engage on social media in a way that will be most effective in your community. One thoughtful but simple social media post or community presentation combined with information about your services and referral process can go much  further than resharing posts that do not relate to your community's culture or needs. 
Remember: you can be extremely effective with a single presentation to a smaller but strategic group, especially with follow up and an ongoing relationship. 
(Re)Center Survivors
We can get off track when we are influenced by those whose anti-human trafficking work does not represent ALL survivors. We can get off track when we compete with one another and  promote ourselves. And it may sound ironic, but we forget survivors when we believe it is all up to us to "save" them. We can also forget that survivors are already in the work of human trafficking advocacy and leadership without others' acknowledgement of their survivor status. We can forget survivors when we don't listen to learn, but only dictate to and patronize. 
We can "re-center" survivors in the work by having a discussion among all or some staff about what this means in your organization. Review the Policy/Advocacy briefs by the  National Survivor Network as survivor-led guidance in your work.
Build through Relationships
We continue to feel the impact of isolation from this global pandemic and the fallout from an intensely polarized country, which has challenged our personal and work relationships.  Much has changed in our culture, but the fact remains that human connection is a felt need and is vital for promoting cultures of healing in our communities. Finding ways to build safe, supportive relationships among other service providers and stakeholders will improve our service provision to survivors. Collaboration isn't just a word in a mission statement or grant application and it doesn't require a grant or an MOU to get a cup of coffee with someone.
It can feel challenging to prioritize it if we are always operating in crisis, but I can promise that proactive relationship building will prove its worth over time. We can choose one or two people to reach out to this month as a great way to observe Human Trafficking Awareness Month.
Below is a very short list of excellent resources that will help you in your work as we observe Human Trafficking Awareness Month. You can use them in your own organization, or share them with others.
Blog post by Courtney Dunkerton, NCCASA Anti-Human Trafficking Specialist
When my friend Liz and I begin to organize a small group around the local problem of human trafficking, we got some solid advice from the then Executive Director of the child advocacy/rape crisis center we were working with. We had thought providing awareness training to community stakeholders would be sufficient, but were asked "so what are we going to do once people identify minor victims?" In other words, identification training with no intervention plan is incomplete. 
What is the impact of all the awareness outputs in North Carolina to identify and respond to suspected incidents of child sex trafficking? It depends. Quality, evidence-informed training that includes ALL survivors of child sex trafficking leads to identification of victims within systems and communities. We need a statewide victim protocol that not merely activates a criminal justice response, but provides sustained service that prioritizes well-being and healing AND that is consistent across all 100 counties. We do not have that yet. 
Calling a hotline and law enforcement investigating a tip is not an intervention plan. And yes, there are amazing examples of local communities pulling together and assisting a minor victim and their family. But what happens when the child must move across the state? Into another school with another family? Or is kicked out of a program because of chronic running away? Or when they age out of foster care? 
To address the commercial sexual exploitation of children together, we can't jump to an intervention protocol if we do not have the same information about the problem.   We need a starting point. That starting point is solid, reliable information about the problem:
Information that is not rooted in urban legends, sensationalized or politicized narratives or anecdotal misinformation

Information that is evidence-informed and peer reviewed by subject matter experts

Information that includes ALL survivor experiences, not just those that aligns with our individual biases

Information that is specific to current North Carolina legislation and policy.
This is why NCCASA chose to collaborate with the Justice U Education Consultants and Developers to provide North Carolina learners with the highest quality training program that meets the above standards in the online training series: Essential Knowledge for Addressing the Commercial Sexual Exploitation of Children in North Carolina.
And though the content was created by experts in the field across eight disciplines, the training program is very accessible without professional "jargon" that creates barriers to knowledge and understanding. Because of this, it can reach across disciplines and regions to educate organizations, businesses, nonprofits, faith communities, and any child-serving professionals.  Organizations can use the training to educate service providers, board members, staff, volunteers, multi-disciplinary teams and task forces. 
In this way, we build a statewide foundation of learners across systems who are equipped with accurate information about the problem of child sex trafficking. This is our starting place so we will have all the information we need to take the next step toward a statewide response to the commercial sexual exploitation of children. 
A while back I published a blog post  An Advocate's Response to the #Savethechildren Movement in which I asked the audience to consider how a lack of accurate information about child sex trafficking can actually harm children:
While the urge to fight the injustice of child sex trafficking and the desire to help victims is the right response, let's think first about the misguided and harmful impact of misinformation and "fake news." 
and 
Until we learn to see how human trafficking impacts the most vulnerable, we cannot truly address it in our communities.
NCCASA's work is to end sexual violence through advocacy, education, and policy. The Essential Knowledge for Addressing the Commercial Sexual Exploitation of Children in North Carolina serves that end. We hope you join us by learning and sharing.
---
To register for the training and earn CEUs and digital certification, go to:
https://learnwithjusticeu.com/csecseries-northcarolina/
"I say put mental health first because if you don't then you're not going to enjoy your sport and you're not going to succeed as much as you want to." – Simone Biles
---
One of our most common recommendations for self-care, or healing, is taking care of our mental health through therapy and counseling. Therapy can be such a powerful tool, if you have the right therapist. For those that we serve, and advocates in the field, that hold marginalized identities, finding a therapist that shares even one of your identities can be profoundly difficult. In 2018 data collected by Zippia, it was found that of the 198,811 therapists identified as employed in the US, 70.4% were women and 77% were White (note: there was no data listed for gender or sexual identity of therapists on this site). Before I continue, I'll preface this post with my identities- I am a White, cisgender woman with a Masters in Social Work from a predominantly White institution (PWI). 
Not being able to find a therapist that you can connect with, whether that be in age, race, culture, gender, or sexual identity has a huge impact on whether or not finding a therapist will take longer and be more difficult, and once you do find someone, the lack of shared identities may make the trust building and therapeutic process more challenging. I was listening to an interview on one of my favorite podcasts the other day where this issue was brought up. Roy Wood Jr. of The Daily Show with Trevor Noah was interviewing two of his Black colleagues, X Mayo and Ashton Womack, about Black mental health and the difference that having a Black therapist can make. Ashton opens up about his own experiences looking for a Black therapist while he was battling depression as well as research he discovered while writing material for a segment on The Daily Show. What he shared aligns with the data points listed above. There were very few Black therapists, and culturally competent therapists. Additionally he shares the stigma that is prevalent in the Black community around mental health. This stigma is, at least, partially rooted in histories of abuse and not being believed by health care systems, including mental health care, and can be a deterrent in seeking traditional therapeutic services. Ashton's  first inclination before seeking support from a licensed therapist was to access support through a church leader whom he trusts. I share this anecdote to highlight both the importance of finding a therapist that you can trust and feel comfortable with, and that pushing therapy as self-care doesn't work for every person and we must recognize the very real barriers that people face and meet them where they are. 
One thing we can do as advocates is know who the culturally competent providers in our community are and/ or how to help someone access a therapist that has shared identities (if that's important to them). Rachel Cargle is a Black American activist, author, and speaker who started the Loveland Foundation. The Loveland Foundation is dedicated to helping Black women and girls find and access culturally competent therapy through connection and funds. If you're working with a Black survivor that is interested in accessing therapy but is struggling to find the right therapist or pay for therapy the Loveland Foundation may be able to help. In addition, here are other resources for you to explore to find culturally competent therapists:
National Queer and Trans Therapists of Color Network 
*Note: these resources are specific to serving the Black community 
I started this blog post with a quote from Simone Biles because her withdrawal from the final individual all- around competition at the Tokyo Olympics, citing her mental health as the reason she needed to step back, sparked an international conversation on the importance of mental health. I know many advocates not only recognized and heard the call for more of an emphasis on mental wellness for elite athletes, but also a reminder that people do not exist in vacuums and their identities are not separate. Simone Biles is a young Black woman, an athlete, and a survivor. The survivors we serve are also athletes, parents, friends, advocates, students, and to Simone's quote all have a "sport" of sorts that's important to them. The survivors we serve all hold varying identities, come from different backgrounds, and have diverse needs. It is imperative that when we talk to clients about self- care strategies, such as therapeutic support, that we honor all of their identities and facilitate connections to providers and resources that will make them feel heard, seen, and supported. 
To listen to the full Daily Show episode, click here 
NCCASA is excited to announce the 2021-2023 Board of Directors. Visit our team page to view our Board!
annual report FINAL

In August we completed the capstone of an almost two year collaboration with a local reentry council and rape crisis center to bring resources into the community for survivors of sexual assault who were also returning home after incarceration. These resources and the story of our collaboration is found in the Supporting Survivor Reentrants: Learning to Serve Those Returning Home resource manual. 
One of the challenges our team faced was achieving a shared language around sexual violence and formerly incarcerated survivors. We needed language that took into consideration the culture of fear and silence that forbids disclosures. We needed to understand that for reentrants it was often safer to not recognize sexual abuse, talk about it, or deal with it. So then, how do you share information about services for trauma that people are too afraid to talk about? How do you encourage programs to (knowingly) work with those who bear the burdens of stigma and misunderstanding? 
Our team relied on each other as co-learners as we realized together that 1) the stigma of incarceration and criminal records tend to bury the fact that they are survivors too, and 2) our rape crisis programs were not intentionally developed with formerly incarcerated people in mind. 
That being the case, there are things we can practice to create cultures of safety for survivors. One is considering the language that we use to talk about survivors who are formerly incarcerated. Just as we work to achieve a shared language around sexual violence that reaches all survivors, we can practice person first language as a way to reduce the stigma of incarceration. 
Language that emphasizes a person's humanity helps service providers more easily see the person who has survived sexual violence rather than the "perpetrator" for whom the experience of rape is sometimes considered just a "normal" part of prison life. We emphasize the importance of person-first language: not an inmate, felon, or excon, but a formerly incarcerated person or youth in detention. Or even better, mother, father, daughter, auntie. 
In the Executive Summary of People First: The Use and Impact of Criminal Justice Labels in Media Coverage, the authors report on the "quantitative and qualitative research to document trends in how the press describes people directly impacted by the criminal justice system and the effect of their language choices on public opinion" which shows us the impact on those returning home (p 3). 
Respondents were exposed to mock newspaper headlines and ledes that used either dehumanizing or people first language to test the impact of the word choices being made by the media. Seventy Five percent of these mock news stories (6/8) showed significantly lower support for reform or for the people discussed in the story when dehumanizing language was used. Respondents 50 years or older, a group that is more likely to be rural, white, and conservative, were the most likely to shift their views based on the language used (p 3).
Directly impacted people have long argued for people first language and demonstrated the ways in which dehumanizing labels make it harder for them to successfully live and thrive. This new research also shows that they entrench bias in the public and make it more difficult to advance reforms that would support, empower, and free those impacted by the criminal justice system (p 4).
In "An Open Letter to Our Friends on the Question of Language," by Eddie Ellis, the founder of The Center for Nuleadership on Urban Solutions, draws our attention to the power of "naming" throughout civilization, and argues how "calling me inmate, convict, prison, felon, or offender indicates a lack of understanding of who I am, but more importantly, what I can be (p 1)." Ellis also shares these recommendations to weave into our speech habits:
Be conscious of the language you use. Remember that each time you speak, you convey powerful word picture images.

Stop using the terms offender, felon, prisoner, inmate, and convict. 

Substitute the work PEOPLE for these other negative terms.

Encourage your friends, family and colleagues to use positive language in their speech, writing, publications and electronic communications (p 2).
As DeAnna Doskins and Zoe Towns write: "carceral labels compound punishment by reducing people to their worst moments, codifying stigma and haunting people for years after sentences are served." And when that occurs, we reinforce the barriers for these survivors of sexual violence to get the help that they need. 
The words we choose and the language we use have power. The changes, however, are gradual, imperceptible even. But isn't everything like that? Small, intentional acts practiced daily over time bring growth and change. Collectively, we can maximize our impact for good when we choose to SEE and CENTER the humanity of ALL. 
Blog post by Courtney Dunkerton, Anti-Human Trafficking Specialist
Sources Cited
Elderbroom, B., F. Rose, & Z. Towns, (2021). People First: The Use and Impact of Criminal Justice Labels in Media Coverage. Retrieved from People First: The Use and Impact of Criminal Justice Labels in Media Coverage .
Ellis, E. (n.d.) An Open Letter to Our Friends on the Question of Language. Retrieved from  An Open Letter to Our Friends on the Question of Language.
Hoskins, D & Z. Towns. (August 25, 2021) How the Language of criminal justice inflicts lasting harm. The Washington Post. [Editorial]. Retrieved from Opinion | How the language of criminal justice inflicts lasting harm .
August 4, 2021
The North Carolina Coalition Against Sexual Assault is disappointed in New York Governor Andrew Cuomo's actions that are outlined in an AG Report that details repeated sexual harassment in the workplace. We support and believe in the survivors that have come forward with their survivorship stories. NCCASA condemns all forms of sexual violence, including sexual harassment and abusive behavior. 
The report issued by New York Attorney General Letitia James documents repeated sexual harassment and a hostile work environment perpetrated by Governor Cuomo and the Executive Chamber. Independent investigators found that Governor Cuomo sexually harassed multiple individuals from 2013-2020, and found violations of multiple state and federal laws.
NCCASA calls for accountability for Governor Cuomo's actions, and echoes the words from fellow state coalition, the New York State Coalition Against Sexual Assault (NYSCASA):
"Governor Andrew Cuomo must take accountability for his harmful actions and for perpetuating a hostile work environment by stepping down from his position as Governor of New York. If he refuses to take accountability himself, NYSCASA calls on the Legislature to carry out its constitutional responsibility and hold Governor Cuomo accountable for his actions."
We additionally want to thank the survivors who came forward, as it takes a great deal of courage to speak against positions of power. We will continue to work for you, and for all survivors, until we live in a world free from sexual harassment, abuse, and violence. 
The Rape, Abuse, & Incest National Network (RAINN), organizes the National Sexual Assault Telephone Hotline. The Hotline is a referral service that can put you in contact with your local rape crisis center. You can call the Hotline at 1-800-656-4673, or access RAINN's online chat service. To find your local rape crisis center in North Carolina, please visit our Get Help page at https://nccasa.org/get-help/. 
In Solidarity,
Executive Director, NCCASA
I am so glad to finally share with you in an August 10, 2021 training the resources our Supporting Survivor Reentrants Team has developed This is the result of one and a half years of brilliant minds and passionate hearts working together to improve services for surivors of sexual violence and human trafficking who are returning home.
One impact of mass incarceration is mass reentry. North Carolina incarcerates 639 per 100,000 annually and each year 22,000 individuals are released from state prisons back into North Carolina communities. COVID-19 increased these numbers, and many who were released were elderly, those with COVID-19 needing immediate medical treatment, and many without a post-release plan in place to coordinate housing and other needs. Reentrants face enormous challenges to meet daily needs of housing, employment, transportation, and recovery services. Recidivism rates are high because of these unmet needs. Trauma from sexual violence experienced prior to, during, or post release compounds these challenges. Additionally, the culture of silence and shame of sexual abuse among justice-involved individuals coupled with the "cost of disclosure" creates even greater barriers to healing.
Through funding from the NC Governor's Crime Commission, NCCASA collaborated with member program Orange County Rape Crisis Center and the Orange County Local Reentry Council to develop the Supporting Survivor Reentrants Resource to address this service gap in a local community. We are pleased to introduce this resource and hope that you will join with us in reducing sexual violence among the justice-involved while strengthening responses to sexual violence on a national, statewide and community level.
In this two-hour workshop Anti-Human Trafficking Specialist and Project Lead, Courtney Dunkerton, will facilitate a panel of the Project Team representing Orange County Rape Crisis Center, Orange County Local Reentry Council, and national partner, Just Detention International, in which they will discuss challenges, successes, and lessons learned. They will also highlight the needs and barriers to services for survivor reentrants, discuss the work of NC Local Reentry Councils, and share evaluation findings and recommendations.
You will also have access to two resource tools: The BLESS Tool Booklet and the Returning Home Resource and Guide for Service Providers. The workshop will provide training on how to use these tools.
It is our sincere hope that this resource, Supporting Survivor Reentrants, will inspire you to create cultures of healing for ALL in your own communities. 
You can register for this training here. Hope to see you!
– Blog post by Courtney Dunkerton, Anti-Human Trafficking Specialist
On Tuesday evening, the US Senate voted unanimously for the VOCA Fix to restore billions in funding to ensure safety for crime victims both in North Carolina and across the country. This bill was the result of bipartisan, bicameral support and many months of work from advocates and survivors in every state. NCCASA commends the US Senate for putting survivors and services first.
"Thank you to everyone for advocating with our senators," said Monika Johnson Hostler, Executive Director of NCCASA. "Thank you for sharing the impact this funding will have on your community."