The Resource Sharing Project (RSP) Team of the North Carolina Coalition Against Sexual Assault is expanding! We are looking for our next RSP Coalitions Technical Assistance Coordinator to join our team in providing guidance and support to the anti-sexual violence field.
We are looking for outstanding relationship-builders and communicators, We value both life experience and professional credentials.
Studies have shown that women, nonbinary folks, and People of Color are less likely to apply for jobs unless they believe they meet every single one of the qualifications as described in a job description. We are committed to building a diverse and inclusive organization and we are most interested in finding the best candidate for the job. That candidate may be one who comes from a background less traditional to our field of work, and that's okay. We would strongly encourage you to apply, even if you don't believe you meet every one of the qualifications described. We are an equal opportunity employer, and we strongly encourage people of color to apply for open positions.
By now conversation about the film Sound of Freedom, the "movie of the moment," that loosely depicts the leader of an antitrafficking organization that sponsors extraction type military operations to rescue trafficked children in foreign lands, has probably reached your neighborhood chit chat and social media networks.
My concern about this film is twofold: One: media with sensational representations of human trafficking diverts attention and resources from organizations and initiatives that provide intervention where trafficking is occurring, and Two:  that trafficked survivors who are not represented in such films remain invisible and unhelped.
It is right and good to demand justice for innocent children who are sexualized and sold t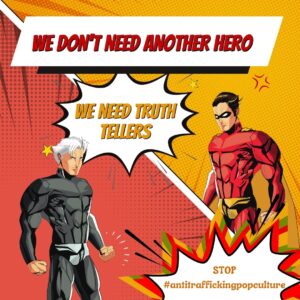 o turn a profit. It ought to grieve and move us to action. That there are victims and perpetrators of child sex trafficking is lamentable and should draw out all natural feelings of anguish and anger. But if we are moved to action, what action? If we do not possess accurate and reliable information about the problem, any solutions will be misguided as well, especially when they are founded on the shifting sands of Americanized hero worship. 
Antitrafficking experts and others have heavily critiqued Sound of Freedom for its documentary-style genre that exaggerates the moral superiority of a man who fabricates accounts of overseas rescues of children. Some of these operations have put children at further risk and further commercializes children by including pay to play donors that get to take part in the adrenaline pumping extraction operations:
 "People who participated in and witnessed OUR (Operation Underground Railroad) operations overseas recounted blundering missions—carried out in part by real estate agents and high-level donors—that seemed aimed mainly at generating exciting video  footage and that, in their view, potentially created demand for trafficking victims….Meanwhile, OUR's overseas operations, and the "jump team" it says conducts them, are the jewel in its crown: the subject of innumerable fundraising emails, interviews with Ballard, two documentaries, and Sound of Freedom…" —Inside a Massive Anti-Trafficking Charity's Blundering Overseas Missions
The film romanticizes and memorializes what seems to be a money making and proselytizing enterprise of one man who benefits from a very loyal following of white suburban women. The film is marketed as a game changer, but it offers no real solutions besides financing the organization.
While there is documented evidence of children trafficked outside of the US borders, there is plenty of evidence that child trafficking exists here as well. The victims of these crimes cut across every demographic, but most at risk for experiencing trafficking are those living in on the margins of society's care and concern: black, brown and indigenous communities, gender minorities and those living with developmental and intellectual disabilities. These children are not honestly represented in the popular stories we hear and share about human trafficking.
Films that play on our emotions without offering any real solutions lead us in circles:Anger unfortunately leads to scapegoating political sides and ideologies. Moral panic and outrage can urge us to just do something even when that "something" is performative or helpful to no one. Calls to "get involved" sometimes means donating to causes and campaigns with no proven transparency or track record for helping trafficked victims. And it leaves us vulnerable to those who take advantage of our empathy and sense of justice.
These films also take our money. If one man can rescue all these kids, then we need to keep him in business. If one man is moved by child trafficking in such a way that he risks everything to save them, then we need to keep up the donations. We cannot call feeding a superego antitrafficking work!  Everyday families and advocates and churches and communities take care of those who have suffered abuse. They also agonize. They also give up and risk and wear themselves out with no applause, no big paycheck, and no celebrity status. Survivors are asked to show up at conferences, interviews, and retell their trauma for free so that antitrafficking organizations can fundraise and build their careers from exploiting the very people they claim to care about.  We should no longer call this antitrafficking work.
What shall we call it?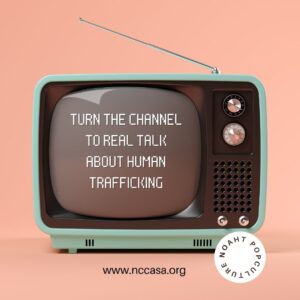 ANTITRAFFICKING POP CULTURE
Pop culture is a thing or idea with broad appeal and mass produced. Pop culture is mass produced, consumable, commodified and easy to digest. It is an important place for generational "markers" and art forms, but it can't carry topics that require complexity and nuance. Antitrafficking pop culture is what happens when we use a popular idea like stranger danger, or the superhero rescue genre and mass produce it via social media or the entertainment industry.
Antitrafficking pop culture includes generalized narratives about child trafficking with a general acceptance and predictable impact: mile wide and inch deep. You have all probably heard some version of a mom who was convinced someone almost trafficked her child in Target and how Wayfair secretly sells children via coded product names. It would be funny if people didn't clog up crisis lines in a mass panic.
We need to be honest about the reality that Antitrafficking pop culture is harmful to survivors and creates barriers to those trying to help. The following are some of these examples:
Misinformation that is harmful and exploitative. We in the field sometimes call these "myths" or even "misinformation" when the narratives are intentionally misleading to further a cause. Human trafficking stories can be manipulated to further a cause or ideology. This is one of the reasons the moral panic around human trafficking has been fertile ground for groups like Q-Anon and white supremacist organizations.
Confirmation Bias. Popular narratives perpetuate the "perfect victim" myth that doesn't challenge strongly held biases not rooted in evidence. It doesn't tell the whole truth, only the truth we want to see.
It platforms unexamined sentimental feel good stories with just enough drama, danger and daring for audience consumption. And boy, do we love a hero—not just any hero, but the one who stands out, above and alone: muscled, masculine and American on a backdrop of military might reminiscent of the "good old days" when we were the good guys fighting the bad guys on foreign soil. And what is more morally superior than rescuing children who have been snatched and violated in all the worst ways?
It Lets Us Off the Hook. There is something that pleases the dominant culture's sense of equilibrium that the violence is "over there" and "we" are the heroes. Even though we are frustrated at not being able to kick traffickers in the face at least we can fund a superhero to do it for us.
It reduces a complex human rights issue to soundbites and talking points (see below). It shouldn't be difficult to understand that the reality of human trafficking is vastly more nuanced and expansive than what is represented in mass media.
Here are some examples of real-life stories that antitrafficking pop culture cannot carry:
The incarcerated woman who says her mother was her first trafficker.
Kids who are kicked out of their homes who depend on trading sex to meet their daily needs.
The foster parent who "homeschools" their children and makes them work 18-hour days.
The hometown hero who creates and trades sexual images of local boys
The minister who grooms minors at his inner-city ministry and pays them with alcohol and weed to have sex.
These children are here in our midst: in our classroom, youth clubs, and Sunday schools along with many other children who are victims of sexual and physical violence, existing in isolation. Would we recognize them? Is anyone trying to rescue them? There are the ones that the message of Sound of Freedom cannot reach.
I conclude with some words of wisdom from the folks at My Life My Choice who want to set the story straight:
"Some may believe that any dialogue about human trafficking raises awareness and builds the movement, and therefore "Sound of Freedom" has an important role to play. We disagree. This film takes attention and investment away from the true work of supporting survivors and shifting the circumstances that makes CSEC possible."
The good news is there ARE reliable sources that accurately reflect the problem and provide evidence and survivor informed solutions. The things that move us to respond and prevent violence against children won't be found in popular culture, but it is found in trusted individuals and organizations not in it to make a name for themselves. They are the heroes nobody knows about except the children they help. And for many, that is enough.
Antitrafficking Pop Culture Talking Points with Responses
It can literally happen to anyone.

While this is true it is also true that some people and groups experience greater risk for being trafficked.

The border crisis is creating more victims of human trafficking.

Anything that creates greater vulnerability for exploitation of any kind is a "driver "of human trafficking.

These stories may be exaggerated but at least they are getting the word out.

Misinformation must be replaced with reliable information which does not always happen.

It's the fault of (insert political party or politician).

Victims and perpetrators of trafficking are not aligned with one political party. Bad policies that result in more poverty, unemployment, food and housing insecurity and less access to health care are contributors to human trafficking.

We need to teach our children to keep themselves safe from traffickers.

Adults are responsible for keeping children safe.

We need to do something!

YES! And learn from survivors/those in the field what the "somethings" are.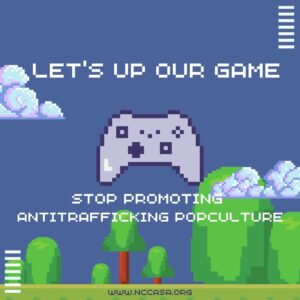 Thanks for reading!
Courtney Dunkerton
Human Trafficking Program Coordinator, NCCASA
courtney@nccasa.org
NCCASA's goal is to always center the experience of survivors as we drive our work forward and prioritize strategies to assistance the community agencies, including rape crisis centers, that provide response to sexual assault survivors.  As the effects of VOCA cuts continue to be felt across the country, NC is not immune to the impact.  NCCASA wants to be able to step in and fill gaps that might begin to arise for the agencies across the state. When budgets are thin, training budgets and memberships to organizations are more difficult to pay for and/or justify when needing to keep the folx on the front line who are serving survivors.  In order to assist agencies during this time, the NCCASA team wanted to make folx aware of three benefits we are working to make more known to local rape crisis centers.  
The first program is our Membership Hardship Waiver program.  When the pandemic began, NCCASA began offering this program as agencies struggled to bring in donations and hold fundraising events.  To access this program, your agency administrator can click this link and fill out a waiver application. The waiver is good for 12 months after the approval date.  In this program, folx have full access to all the membership benefits the agency would have if they were to pay, including access to free training.
The second program is our self-paced online training, Advocacy Fundamentals Course.  With an active membership, paid or waived, your agency has access to the 20 hour course. The course covers the basics of sexual assault response and provides the 20 hour of training that advocates (staff or volunteers)  at local rape crisis centers to obtain Advocate Privilege in the state of NC.  Agencies can not only utilize this training to train new staff, but also their volunteers.  This training does not serve as a replacement for your volunteer training, but can be used to cover the basics and allow staff time to be spent on covering specific agency/community knowledge.  If you are interested in utilizing the Advocacy Fundamentals Course for your volunteer program, please contact Deanna, Director of Statewide Capacity, at deanna@nccasa.org. 
Lastly,  NCCASA has been working diligently to move all of our webinars that are older than a year to our Youtube channel.  These trainings are free and do not require any type of membership to access. Check out and subscribe to our Youtube channel, here.  
NCCASA wants all agencies to know that we are here to support you through tough budgetary times.  If there are other gaps your agency is struggling with, please let us know. You can contact our Executive Director, Monika Johnson Hostler at monika@nccasa.org and/or Deanna Harrington at deanna@nccasa.org. 
What would it be like to travel back in time to join those who sparked the movement to end sexual violence? What if we paused to listen and look at their roadmap that is their legacy?
We step into their legacy when we listen to their voices as survivors existing on the margins. They were the Change-Makers who sacrificed everything to survive and thrive.They organized, carved out safe spaces for themselves, used networks, relationships, and the media that was available at the time.
We step into their legacy when we listen to the current voices of survivors existing on the margins: We are the Change-Makers who follow their roadmap and carve new paths using technology, media, networks, healing arts, and amplify the voices who still demand change.
This year's conference is a gathering of Change-Makers and we hope to see you there!
Click
here
to register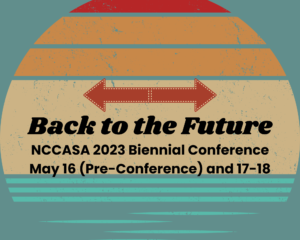 Financial assistance is available to survivors of sexual assault and local programs that provide sexual assault response services to survivors. A limited amount of funds is available for distribution between now and June 15, 2023. Financial assistance is not recurring and is only provided once. Funding is provided for payment or reimbursement of expenses for which a bill or receipt can be provided. This funding will prioritize applicants who have expenses related to an assault that happened in the last 12 months, but other applicants may still apply. Applicants must live in the state of North Carolina.
Survivors of sexual violence can request payment or reimbursement for expenses such as the following when those expenses are related to their assault: 
medical services (hospital or medical bills or co-pays, rape kit) 
emergency transportation
therapy 
child care
emergency housing
legal representation
This funding can also be used for staff of local programs that provide sexual assault prevention and response services. Specifically, when the request is related to secondary trauma, the funding can provide:
an advocate therapist
a group therapy/debrief for staff 
To apply, complete the Google Fom. Someone from NCCASA will notify all applicants that their application has been received and if their request has been approved for funding. If you experience any technical difficulties completing this application, please call 919-871-1015 or info@nccasa.org for assistance. 
Creating Family Friendly Work Policies 
Tuesday, May 16th 9-1
Sponsored by DHHS and RPE,The pre-conference institue is FREE to Rape Crisis Centers
We will hear about ways to get engaged in Grass Roots Movement with Moms Rising. How to develop these policies and  the impact on how these policies can create change for staff. Lastly, a panel of NC state and federal funders to talk about how to ensure these types of policies are covered by your grants.
Click here to register.
The excitement is building on Common Ground…
Read on to be a part of the excitement while we build a whole new look for you!
What is Common Ground?
Since the Sexual Assault Demonstration Initiative was so specific to the project, we wanted to give the SADI Corner a makeover to make it more relevant and sustainable. We want to keep the lessons we learned from the SADI Project, but present them in ways that express our continuity and commitment to putting it all into everyday action. 
Why "Common Ground?
Oh how we wrestled with the name! "What's in a name"? Unlike Juliet's take on them, there's a lot to unpack from a name. The webpage name for this was no different. When named well, resource pages can provide inspiration, navigation, and be a great clue of where to find the most useful information. So why "Common Ground"?
I will say, I researched hundreds of names until I found something that sat well with me. Something I could feel in my soul. But, if I am being honest, the word "common" has always given me pause. This is mainly because so much of me exists in the UNcommon. I revel in standing out and being different. Differences rock! However, so much of who we are and what we do, threads through each other's lives in a woven tapestry that has become this glorious movement.
 It was important for me to choose a name that all of the threads of our movement could come and glean resources to move the needle forward towards ending sexual violence. The name also needed to represent not only the beautiful threads of advocacy, but also the prickly pins and needles of racism and oppression. For such difficult things though, we needed something strong. A stronger representation of the work we plan to do on this page. A battlefield, if you will. 
But since I, as the SADI Specialist, weaving this tapestry, am more of a lover than a fighter, I wanted a simpler place. A common ground, per say. A place where we can confront the difficult topics in a technical way, that moves all the pieces together. A place that can include everyone, a place that focuses on those in marginalized communities that need the most attention. A place to focus on all the lessons we learned from SADI, but making it more accessible and easy to put into practice. 
So… after much thought and lots of research, The Common Ground sat well within my soul. It feels good. It's a safe space. It's a welcoming place. It's the judgment- free zone. There is much to be learned and learn FROM The Common Ground. It's a great place to start. Once I sat with the word, and really began to think about all the things that connect us, I realized that "common" is not so bad. It's very important we meet on common ground in advocacy. Whether it's one on one with survivors, or working policy change, it's always a wonderful start when you begin on common ground. I hope you all are as excited about the construction of this page as we are. I have so many wonderful resources planned and I look forward to working with all of you in turning this into a successful venture. With that said, Caution! Hard hats are required in this area! Let's get this done together!

NCCASA 2023 Biennial Conference
Back to the Future
Tuesday, May 16th – Thursday, May 18th, 2023
Conference will be held virtually through Zoom. All logistics and information will be sent out to each presenter once their proposal has been approved.

**Call for Proposals**
"Do not dwell on the past! The past has been written with ink…the future in pencil! Worries about what cannot be changed is unnecessary, focus on what you can control and work to not make the mistakes again."
NCCASA's 2023 Conference, Back to the Future, will focus on potential applications of lessons learned, promising practices, and our pathways forward to ending sexual violence in NC. As we look toward a world where COVID will always have an impact, we are still reminded that there is a need to offer spaces for recovery and to collectively share ideas for equilibrium and rebuilding.
We are looking for workshops that explore the following questions: How do we build trust and relationships with collaborative partners and community members, with marginalized communities, in our service delivery and intervention, and in our primary prevention? How do we acknowledge and support survivorship in the work with trauma- informed and person- centered care? Also, how do we enhance agency capacity, outreach, community organizing, program management & development to prevent and address trauma while promoting health, wellness, and access to resources and safety? We especially welcome culturally-specific workshops that promote sexual violence specific resources and services outside of the civil/legal system.
Workshops are 90 minutes in duration, and priority will be given to sessions that are interactive, engaging, and provide participants with something tangible. We envision workshops that go beyond lecture style presentations. We are accustomed to and encourage a delivery style such as Train the Trainer, case studies, or small group work. Our goal is to offer participants a conference experience with minimal lecture that promotes participation amongst attendees.
The Conference Committee composed of NCCASA members and allied professionals will select workshops based on the content of the proposal and the relevancy to the 2023 conference. Proposals should include and make clear how lessons learned and promising practices can be analyzed and implemented to continue forward momentum.
Guidelines for Submitting Proposals:
Please complete the training proposal form on the following page. Incomplete proposals will not be reviewed by the Proposal Committee.
Training proposals are due by 5:00pm on Monday, March 13th, 2023. Proposals received after this deadline will not be reviewed by the Proposal Committee.
Please submit your training proposal via email with the subject line, "TRAINING PROPOSAL," to Deanna Harrington, Director of Statewide Capacity, at deanna@nccasa.org.

Training proposal submission does not guarantee workshop acceptance.
Notification of selection will happen on Monday April 1st, 2023
Click here to fill out the Proposal Form.