White House Listening Session for Youth of Color on Gender-Based Violence
February 7, 2022
Say to them,
say to the down-keepers,
the sun-slappers,
the self-soilers,
the harmony-hushers,
"Even if you are not ready for day
it cannot always be night."
You will be right.
 -Speech to the Young: Speech to the Progress-Toward by Gwendolyn Brooks
-Bold made popular by TikTok & Kanye West 
You are invited to the U.S. National Action Plan on Gender-based Violence: A Listening Session for Youth of Color on Wednesday, February 23, 2022 at 6pm/Eastern.  This is an opportunity to center youth of color voices, highlight themes, and give recommendations to the White House Gender Policy Council as they develop the first ever U.S. National Action Plan to End Gender-Based Violence. In addition to lifting up gender-based violence, the space will examine social justice, reiterate the power of youth voices, and encourage the pursuit of joy and dreams. The session has been created for and by youth of color, ages 13-17 years old.  Representatives from the White House, Caroline Bettinger-López and Rosie Hidalgo will be in attendance for this session, creating an unprecedented opportunity for youth of color to inform the recommendations being put forth.
Understanding that the content is both hard to think through and talk about, immediately after the session, a licensed therapist of color, will host a wellness space for thirty (30) minutes that will offer practical mental health activities and tools. 
We have put together a list of 
frequently asked questions
to guide youth of color and parents in understanding the intent and potential impact of the listening session.
Register for the 
U.S Action Plan on Gender-Based Violence: A Listening Session for Youth of Color
 on Zoom 
here
.
Please share the event flyer with your youth of color contacts and networks.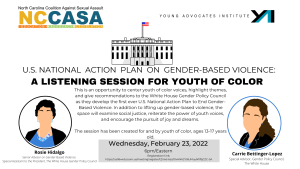 Feel free to contact Tracy D. Wright from the North Carolina Coalition Against Sexual Assault at (919) 871-1015 or 
tracy@nccasa.org
 with any additional questions.